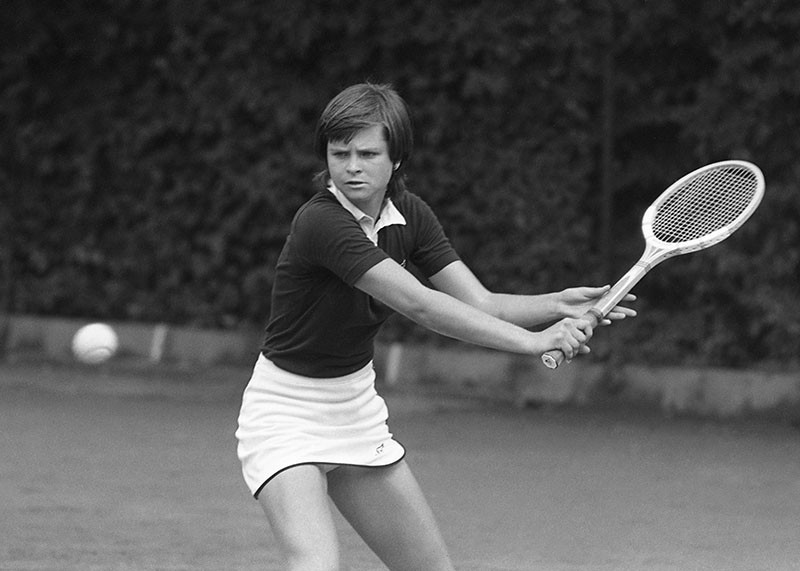 For tennis observers, 1977 Orange Bowl is Mandlikova's breakthrough. Orange Bowl is a prestigious junior tennis tournament, one of the most 4 important on the Junior tour.
The tournament soon grew in prestige and importance, being considered the initiation rite of future world tennis champions
Players who have competed at the Orange Bowl reads as a virtual who's who of modern tennis, including  Hana Mandlikova of course, and  Chris Evert,Roger Federer,Steffi Graf,Justine Henin,Ivan Lendl, Andre Agassi,Arthur Ashe,Boris Becker,Björn Borg,Jimmy Connors, Stefan Edberg,Gabriela Sabatini,Monica Seles,Guillermo Vilas, andMats Wilander.
Hana Mandlikova before 1977 Orange bowl
"To secure a place in the Orange Bowl I had to win our most prestigious junior tournament of those days, called Pardubice. I had lost in the final the previous year, no doubt shedding a tear or two afterwards.
"I was determined that this year I would confirm my booking on a flight to the United States. In the final I faced a crisis against Yva Budarova, trailing 0-3 in the third set. But I refused to surrender; there was too much at stake. I won the match and a place in the Orange Bowl. I would get the opportunity to show myself where it really counted."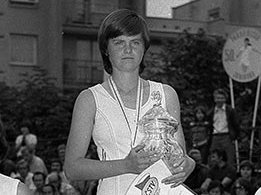 Hana Mandlikova's victory in the U16 event put her on the tennis map
I reached the semi-finals of the under-16 event. I beat Argentinian, Ivanna Madruga to claim a place in the final, but I hurt my knee on the hard cement courts.
Before the final I needed (father's) advice.
Yesterday,' I reported, 'we played the semifinals on a rough court.I did something to my right knee.'
'Did you win or lose?'
'I won. But in some volleys I heard a click in my knee and it's very swollen. What should I do?'
'It's probably a pulled tendon. Take a cloth, pee on it at night then put it on your knee, wrapping the cloth in a plastic bag with a towel round the outside. During the match keep the knee wrapped tight with strapping. Play serve and volley, finish the point as quick as you can.'
I did as father said. Apparently there are lots of minerals in urine and they help heal muscle injuries. The knee held up and I was Orange Bowl champion." ("Hana, an autobiography" w. Malcolm Folley, 1989)
Hana Mandlikova wins final, thanks to her power and pee
In the girls' 16 finals, seventh-seeded Hana Mandlikova, a Czech who has been in America for 22 days, beat unseeded Michelle De-Palmer of Palmetto, Fla., 6-2, 6-3. De Palmer bad easily beaten No. 1 seed Tracy Foster to gain the final, but her retrieving game was no match for Mandlikova's power (Miami News, Dec. 23, 1977
SCOREBOARD
ORANGE BOWL JR CHAMPIONSHIPS
Miami, Fl. – Dec. 16-22, 1977
 – Marriott Inn – 

singles seeded #7
SF : + Ivanna Madruga
F : + Michelle DePalmer 6-2 6-3