1977 Wimbledon marks Hana Mandlikova's first steps on grasscourts, even if she lost to Petra Delhees in the Junior Championships
Last minute guest
In June 1977, the Czech Tennis Federation recieved a telegram from the all-England Club to alert them to the fact that Hana had been given a last minute place in the draw at junior Wimbledon.
Wimbledon, pinnacle of Hana's dreams
"Wimbledon was the pinnacle of my dreams and I was going to play there. All those hours spent relentlessly practising against the wall at the Sparta Club had been worthwhile after all" ("Hana, an autobiography" w/ Malcolm Folley, 1989)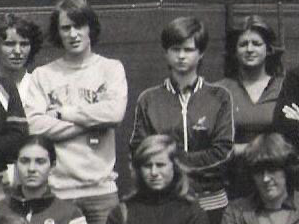 First steps on Grass court
"When I walked into the grounds at Wimbledon I could hardly think straight. Even now, all these years later, I still cannot adequately explain what Wimbledon means to me. It is a cliché to say that it is extra special, but that's what it is. There is not another tournament like it in the world.
I was so nervous when I went out to play the Swiss girl Petra Delhees on Court 5 in the second round of the juniors (I had a bye in the first round).
Despite the loss,Hana lived her dream
Trembling with anxiety I was afraid that I might damage the court. It was my first time on a grass court and I was ashamed to play badly, because I knew that the English people understood the game of tennis.
Delhees beat me, but I didn't care. I was at Wimbledon and that was enough. I went everywhere. I looked at everybody. I watched Martina Navratilova, Billie Jean King, Ilie Nastase. I stayed all day, just watching." ("Hana, an autobiography" w/ Malcolm Folley, 1989)
SCOREBOARD
WIMBLEDON JR CHAMPIONSHIPS
Wimbledon, UK  – Jun. 20-Jul. 2, 1977
AELTC -Grass
singles
R1 : bye
R2 : – Petra Delhees 2-6 3-6