Playing her first tournament of the year, Hana Mandlikova narrowly loses to Hanika in Virginia Slims of Washington quarter-finals.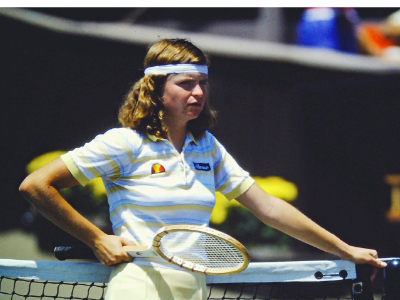 1st Rd vs Anna-Maria Fernandez :
Hana Mandlikova easily defeated Anna-Maria Fernandez 6-3, 6-0 but scarcely was impressed with her performance in the first round of the $150,000  Virginia Slims of Washington.
"I was confident out there and it was pretty easy," Mandlikova said after the Tuesday night match. "But I was serving good only on the points when I needed it. I missed a lot of volleys that I should have made. I'll have to improve."
Mandlikova, who never lost her serve, broke Fernandez, Torrance, in the first and ninth games of the first set. Fernandez managed to win only four points on Mandlikova serve during the set.
Fernandez, normally a baseline player, came to the net often but was passed frequently by Mandlikova crisp passing shots at George Washington University. 
"She really suprised me by going to the net all the time," Mandlikova said. "Usually she stays on the baseline, but after the first two games I saw she wasnt going to stay back there. "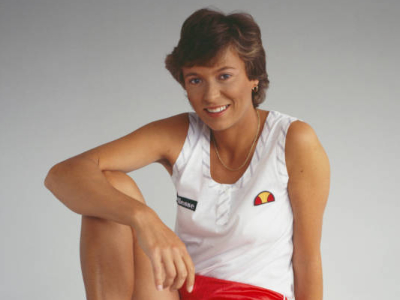 2d Rd vs Jo Durie :
Mandlikova, the world's seventh ranked player, never let Durie into the match, winning 6-1 6-3.
Durie lost the first five games and trailed 4-0 in the second.
Hana will meet Sylvia Hanika in quarterfinals. The West German dominated promising young Carling Bassett.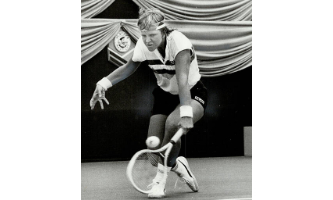 Mandlikova narrowly loses to Hanika in Washington quarter-finals.
On night session, Mandlikova won the first set tie-breaker 8-6 despite committing nine double faults in the opening set.
"I told myself just to play the points, she's  going to make her errors",  Hanika said. "And she did."
Hanika kept the rallies longer and Mandlikova obliged with numerous unforced errors. Mandlikova lost her serve in the final game of the second set and three times in the third.
"My serve wasn't working at all tonight" Mandlikova said . "I was serving well in the second set when I was up a break (at 4-3) the match would have been totally different. But my serve was nothing tonight."
SCOREBOARD
VIRGINIA SLIMS OF WASHINGTON D.C.
Landover, Maryland – Jan 3-10, 1983
$150,000 – Indoor Sporteze – GWU Smith Center
singles : #3
R1 : + Anna-Maria Fernandez 6-3 6-0
R2 : + Jo Durie 6-1 6-3
QF : – Sylvia Hanika(6) 7-6(6) 5-7 2-6