The Australian circuit flourished too, having already decided to separate from the men, for the first time holding women's-only Australian and New South Wales Open tournaments in 1980. This was the first time in 46 years one of the four 'Grand Slam' events was held separately from the men since the United States Championships regularly did so through 1934. Six of the world's Top 10 showed up for new $200,000 Toyota sponsored Australian Open, the best such entry since 1969. The only error here was holding the major at the start of the circuit, and a month earlier than usual in late November, with the "lesser" tournaments to follow, instead of building up to the finale.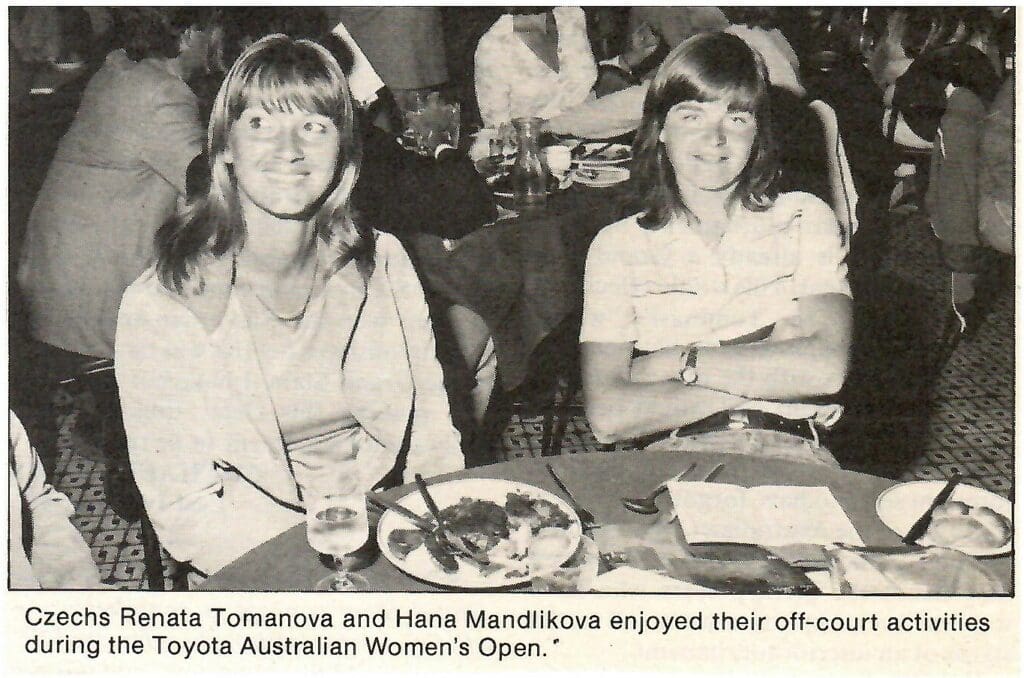 2D RD vs ELIZABETH LITTLE
Third seed Mandlikova had struggled early to put away local Elizabeth Little in her opening match 7-6(7-3) 6-2
3RD RD vs BARBARA HALLQUIST
The "big guns" from Czechoslovakia, Martina Navratilova and Hana Mandlikova, won their third-round matches and probably set the stage for a clash in the final. ' Martina had her share of problems before beating Renee Blount 6-3 6-7 6-1.
But Hana played a lot better than in her first match in beating Barbara Hallquist 6-2 6-3.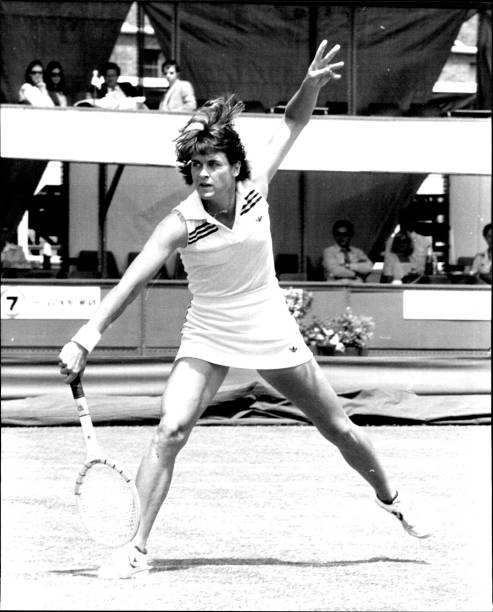 Miss Hallquist said it all after the match when she admitted that during her tennis lesson she felt she was being toyed with and that Hana could have done whatever she wanted, whenever she wanted. But Hana is still having a problem with her badly-blistered racquet hand, although yesterday it was no worse. She was forced to use a glove to protect her right hand.
QF vs VIRGINIA RUZICI
Mandlikova scrambled into the semi-finals of the women's tennis championship at Kooyong yesterday, but she had to produce the fighting qualities of a champion.
Down a break in the final set and in danger of being bundled out by the Romanian Virginia Ruzici, the 18-year-old Czech star won 6-1 3-6 6-4.
There were some fiery moments in the tense Ruzici-Mandlikova match when the Romanian called twice for the tournament referee, Jim Entink, after a disputed point.
The first incident came in the sixth game of the second set when the central umpire, Mrs Marie Alger, called "not up" as Miss Ruzici was reaching for a shot from Miss Mandlikova. It was a premature call and Miss Ruzici reacted. She called for Mr Entink, who explained that the central umpire's call could not be changed when it was a judgment decision.
 In the first game of the final set, Miss Ruzici called again for Mr Entink after Miss Mandlikova's second service on the first point was called a double fault and then changed. Mrs Alger said a let had to be played. Miss Ruzici protested. Three weeks ago in Europe she was involved in a similar incident, but her opponent then was given two services. Mr Entink ruled that there was to be one service, which satisfied the Romanian.
The crowd cheered when she (Mandlikova) broke the Romanian again to lead 5-3 but then she dropped her own service after having two match points. She had another match point on Miss Ruzici's service but lost it. 
She made no mistake with the next, forcing the Romanian to serve a double fault when she moved to within a metre of the service line.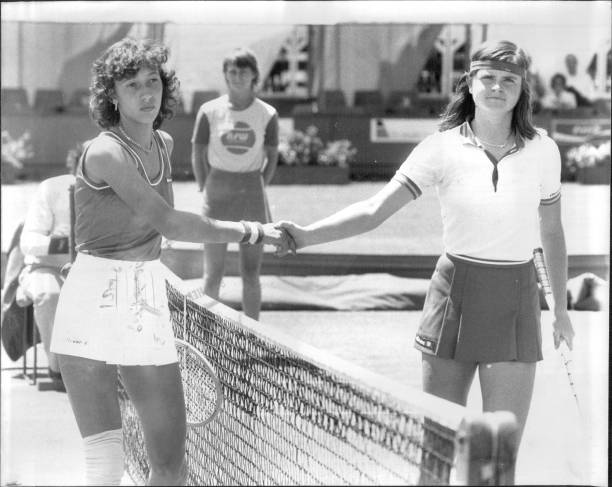 In the other quarter-final matches yesterday: The top seed Martina Navratilova, had the closest of struggles to beat Greer Stevens 4-6 6-1 7-6 in a magnificent contest. . Wendy Turnbull made the Australian championship semifinals for the first time with her 3-6 6-3 6-2 win over Pam Shriver. Mima Jausovec won her quarter-final 4-6 6-3 6-3 against Candy Reynolds.
SF vs MIMA JAUSOVEC
Hana Mandlikova was accused of being favoured by on-court officials after her magnificent 6-4, 6-1 win in yesterday's semi-final of the $200,000 Toyota Australian Open at Kooyong.
Mima Jausovec, on the receiving end of the business-like hiding from the 18-year-old Czech star, was bitterly critical of some calls in the match.
"All the linesmen are on the side of Hana," she said bitterly. "Just because she won here last year they are afraid to go against her. It was the same thing when Hana played Virginia Ruzici on Friday. There were two bad calls that went against Virginia and they were wrong. " "The umpires are on the side of the favourite player."
Miss Jausovec was the victim of three poor calls during the match but it really did not make any difference to the result.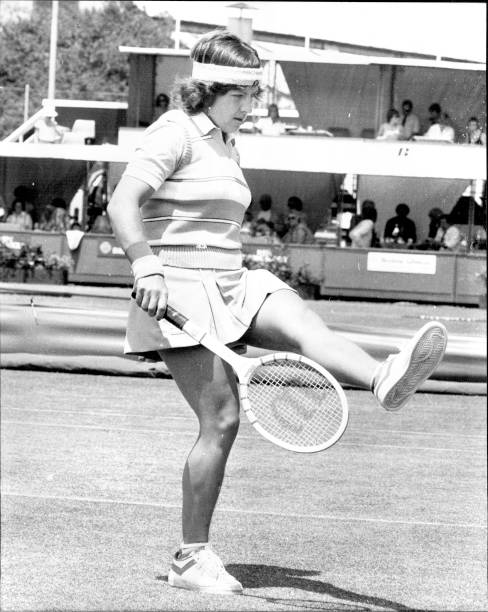 Mandlikova showed why she has made such giant inroads in women's tennis with her fully professional approach to the game both on and off the court. 
In a little over an hour, during a rain-interrupted semifinal, she had forged into today's final with its first prize of $32,000 and a car worth $7,500.
First, there was the business of winning matches while she was on the court, displaying her incredible array of shots and her remarkable athletic ability.
Then came the touch of professionalism at the press interview later -when she smilingly said she did not want to say "just now" that Martina Navratilova was her idol.
Mandlikova obviously was anticipating that Navratilova would be facing her in the final and she did not want to give the impression that the former Wimbledon champion was a schoolgirl idol.
'The first time I remember seeing Martina she was 18 and I was 12," Mandlikova said. "She was a star and I remember one day acting as a ball girl in her match when she played against another club. "I had the choice that day between Renata Tomanova but I chose Martina. She was the star and she won that day I think."
She did say that Martina had been an idol . . . "but not just now," she added with her infectious grin. 
But Martina was upset in semis by Aussie favorite, Wendy Turnbull.
FINAL vs WENDY TURNBULL
Turnbull was handcuffed by nerves and expectation in the final, losing the first set in just 16 minutes, winning only 10 points.
When Mandlikova served at 6-0 5-2 it looked like a humiliation was in order. Wendy salvaged some pride, broke back twice, saving two match points in the 10th game but that was her last stand.
Mandlikova broke in the 11th game and held to 30 with a forehand volley winner off her shoelaces for a 6-0 7-5 win in just 53 minutes.
"This was the best I played all week. I really enjoy playing here in Australia" said the delighted champion who was suffering from blisters in her racquet hand earlier in the week and collected $32,000 for her efforts.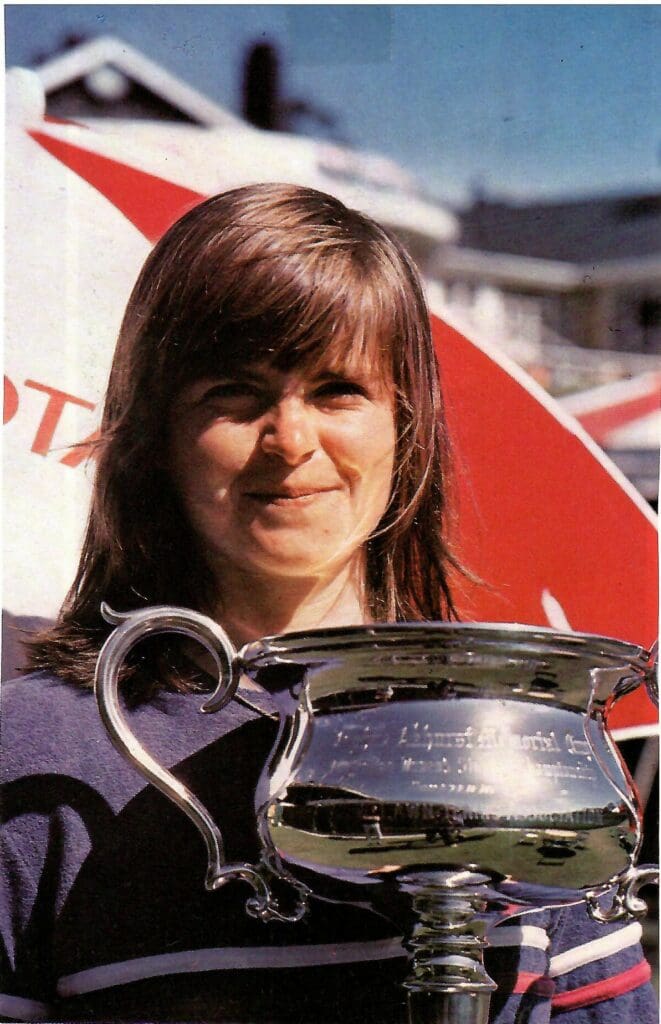 The win also assured Hana of a first place $115,000 bonus payout as the leader of the Colgate International Series standings.
SCOREBOARD
TOYOTA AUSTYRALIAN OPEN
Melbourne – Nov. 24-30, 1980
$200,000 – Kooyong – Grass

singles : #3
R1 : bye
R2 : + Elizabeth Little 7-6(3) 6-2
R3 : + Barbara Hallquist 6-2 6-2
QF : + Virginia Ruzici (6) 6-1 3-6 6-4
SF : + Mima Jausovec 6-4 6-1
F : + Wendy Turnbull (4) 6-0 7-5

doubles w/ Renata Tomanova
R1 : – Sylvia Hanika/ Claudia Kohde 6-4 4-6 6-7 5-7, 2-6