HANA MANDLIKOVA
Identity Card
Date of birth : 19 february 1962
Place of Birth : Prague , Czech Republic
Residence : Delray Beach, Fl.
Height : 5'8″ (1m73)
Status : Pro 1979 to 1990
Highest WTA singles Ranking : #3 (April 1984)
Motto : " Tough times never last, Tough people do" (Robert H. Schuller)
Quick Facts
Won 27 WTA singles titles including 4 Grand-Slams.
Finalist in 26 WTA singles events including 4 Grand-Slams
Won US OPEN 1985 defeating Chris Evert in SF and Martina Navratilova in final, ranked 1 & 2 WTA
Ranked 6 times top 5 in year-end WTA rankings
1978 ITF Junior World Champion
1980 Number 1 Colgate series Championships rankings
1980 WTA Most Improved Player
1989 Nominated for WTA Comeback Player of the year
Coach : Betty Stove
Hana Mandlikova, year by year
by Tripp Barwick and Stephane Darris
1977-78 : TBC
1979
HERE YOU CAN FOLLOW 1979 SEASON IN DETAIL
1979, is a year of transition between the juniors and the professional circuit.
Hana won her first major tournaments, at the beginning of the year on the Avon Futures circuit, and especially in Melbourne at the end of the year. But in the meantime, the Czechoslovakian federation forced her to play junior or amateur competitions, which kept her away from the professional circuit for many weeks, while the likes of Tracy Austin and Pam Shriver, of the same age, played full time in the pros.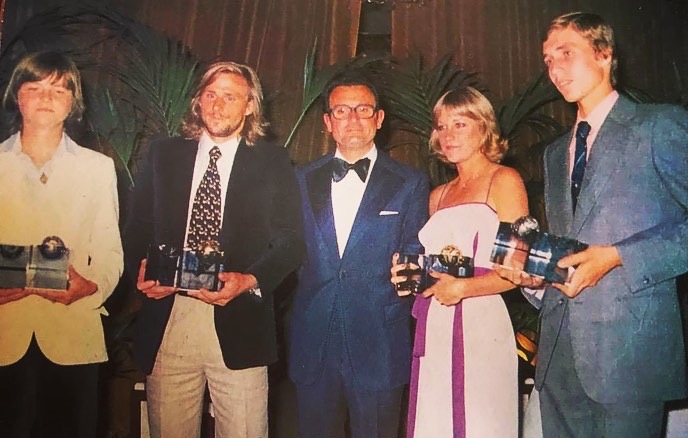 Tired of this treading water, Hana understood that her progress would come from freedom from the Czech authorities.
1980
HERE YOU CAN FOLLOW 1980 SEASON IN DETAIL
Only 18, Hana's serve and volley style was coming together in 1980. No doubt a large part of that is owed to Betty Stove who agreed to coach her after Wimbledon. Betty would often stay in the background. But make no mistake about it, she's largely responsible for the progress that Hana made throughout her career. Hana trusted Betty and respected her even beyond her playing days.

She challenged Evert in a 3 set battle at the Italian Open and followed up at the French with a 3 set SF loss to eventual champion, Evert. She had Wimbledon champ Goolagong on the ropes, 7-6, 3-0 before losing in 3 on Center Court. And she defeated Navratilova, for the second time, on her way to the US Open final. One again, she lost in 3 sets to Chris. But she took revenge in Atalanta, beating her in straigh sets. She then won her first slam crown, the Australian Open, in a field that included both Navratilova and Goolagong. She defeated Turnbull in the final, 6-0, 7-5 and thus began a love affair with Australia.
1981:
Hana took up where she left off in late 1980. She would have much to do in order to top 1980.

In the spring and summer of 1981, she did just that. Hana won the French Open and reached the Wimbledon final………..standing a mere two matches away from a non-calendar slam.
She became only the second player ever (Margaret Court, 1973) to defeat Chris Evert, queen of clay, at Roland Garros.
But the happenings in Paris weren't all good. During her run, she felt a twinge in her back. It was an injury that would get progressively worse and threaten her career.
She withdrew from Wimbledon in order to rest her back but re-entered the day of the deadline. She defeated Martina once again (Martina's last loss at Wimbledon until 1988) but lost to her nemesis, Evert, in the finals.
Then happened during the summer a controversy about the WTA Rankings. At the Canadian and US Open, Hana was drawn to meet Chris Evert in quarters, as it goes when you're ranked 5 against number 1… But for all the observers, players, , it was obvious Hana should have been , at least, number 2 on the computer rankings.
"The seedings are wrong, she should be at least number 3 or 2 in the world" admitted Chris Evert. (UPI, Aug. 20, 1981)
As a matter of fact, Hana lost to Chris in the 2 others Grand slams of 1981 in quarterfinals. And the fall was ruined by her back injury.
1982
At the end of 1981, Hana took several months off to rest her back. One doctor's opinion had been to rest it for 2 years. But another doctor prescribed some special excercies and therapy for her along with 3 months away from the courts. She did the excercies faithfully for the rest of her career and called them "McNabbies" after the Dr. McNabb that she trusted.

In the spring, she defeated Billie Jean King in the SF during a nice Italian Open run. But she lost 6-0, 6-2 to Evert. She continued her good form into Roland Garros where she scored her first pro win over Austin. She had lost the first 7 of their matches (6 in three sets). The three set battle might've taken something out of Hana though, because she suffered another 6-0, 6-2 loss in the SF. This time to Martina who was on her way to her first French title.

After a disappointing Wimbledon, Hana headed to the hardcourts where she pushed Martina at the summer Fed Cup event as well as at the Canadian Open. At the US Open, Hana scored a second straight 3 set win over defending champion Tracy Austin in the QF. This time, she followed that up with a 3 set win over Pam Shriver in the semis, winning 6-2 in the 3rd. However, once again, Chris Evert stood in the way. She defeated Hana in a final where Hana hit the ball well but was far too impatient.
At the end of the year, Hana had a very good showing at the Toyota Championships, beating Barbara Potter to what stayed as the best match of the tournament, before losing in semis to eventual Winner, Martina Navratilova.

Despite the injury and loss of confidence, Hana was still only 20 years old and the winner of two Grand Slams and r/u at 3 others.
1983
Hana's 1983 would be disappointing. Her back injury caused her to miss so much practice and match time that she claimed in her book that she and Betty watched tapes of her just to help her body remember her previous serve and volley style of play. This had been curtailed somewhat in an effort to avoid stooping and stretching as much as possible.

Hana was a QF loser to Evert in Paris and New York. The French match with Chris was a close, hard fought 3 set match. Afterwards an exasperated Hana told the press that if she could play the way she normally does, she would have won "two and two." This would begin something of a feud between the two players that would last for a year and a half.

Perhaps frustrated with her injury and loss of confidence, a change to a graphite racquet, not to mention a ranking that would spiral down to #12, Hana sometimes came off as petulant and arrogant. But it was hard for her to accept going from being a Grand Slam champion to someone seeded to lose in the 4th round.


Ted Tinling said it was heartbreaking to watch Hana sink into such a deep, dark hole. But he also said that it was hard for some to feel sorry for her given the comments she sometimes made about the two players clearly better than her, Martina and Chris.

She also made her seeding at the US Open, losing to Evert in the QF. But struggled at both Wimbledon and the Australian for the second straight year. Surprising, given that grass best suited her style of play. But true to form for Hana who was always doing the opposite of what was expected of her.

She continued to play well against Martina, giving her several 3 set battles. But she didn't win any of them. Her one true bright spot was leading Czechoslovakia to a Fed Cup victory on slow, Swiss red clay, defeating the USA's Andrea Jaeger in the SF. It was only the second Fed Cup championship for her country.
1984
HERE YOU CAN FOLLOW 1984 SEASON IN DETAIL
1984 would be a return to prominence for Hana. By year's end, she would be back to #3 in the world. But it looked bleak for her at the end of 1983. Some people questioned whether or not Betty Stove had failed as her coach…..or worse yet, maybe Hana was simply uncoachable.

Betty and Hana's father decided that Hana needed to be on her own for a while. They felt that she was relying too much on Betty. To help her grow up on and off the court, they sent her out on her own to the States to begin what they all considered a critical year in Hana's career.

Though she didn't like it, it seemed to work like a charm. Hana won her first two tournaments, blowing apart the field at Washington D.C. and then reaching the final in Oakland. After defeating Jaeger and Shriver, Martina was waiting for her in the final. Hana had beaten Martina three times before and had taken her to 3 sets several times in 82 and 83. But she felt that she needed to win again. She defeated Martina 7-6 in the 3rd set to take the title. Martina wouldn't lose again until 74 matches later at the Australian Open.

In the early part of 1984, Hana accomplished two things: She won five spring tournaments and became the most consistent threat to Martina. She followed up her wins in D.C. and Oakland with tournament titles in Houston, Dallas, and Boston defeating M. Maleeva, K. Jordan, and Sukova in those finals.

She lost a close 3 set match to Martina on clay at Amelia after leading 4-2 in the 3rd. When NBC cut away from the match to show a baseball game, they were deluged with calls and mail saying that they had cut away from the best women's match they'd seen in years. Deciding that it didn't want to be faced with such a reaction again, NBC decided to no longer televise the Amelia Island event and concentrate on baseball that week instead.

Hana zipped through the field at the French and stood poised to defeat Martina again while leading by a set and 2-0. But Martina would stage a wonderful comeback displaying strength and athleticism perhaps never seen from her or any other woman before. After Martina's 6-2 3rd set win, Hana made a terrible mistake. She began a second feud with Martina by intimating that she played and looked more like a man than a woman. Hana effectively alienated herself from the other players and tour officials.

At Wimbledon, she had every right to be confident about her chances of winning. But some felt that she wasn't giving enough credit to the big two. She breezed through a dark horse favorite Jo Durie in the QF but lost tamely to Evert in the SF.

Hana made the trip to Brazil later that summer and lead the Czechs to their second straight Fed Cup title…….again on red clay. But a leg injury would force her to skip most of the hard court season. She went into the US Open having only played two matches and lost to Carling Bassett in the QF.

However, the US Open contained one bright spot………an end to her feuds with Martina and Chris. As described in her book, Hana waited until she and Martina were alone in the locker room. She walked up to her and stuck her hand out and apologized to her in Czech. Martina said she instantly felt relieved and forgave Hana whom she felt a kinship with. She also had a long talk with Chris about how things get blown up in the news media………specifically the comments or rather non comments that Hana had made at Wimbledon about like her chances of winning it.

Afterwards, Hana felt tired and decided to not go to Australia. She felt that she had turned a corner in her career and decided to rest up and steady herself for a grand slam title run in 1985…………..
1985
HERE YOU CAN FOLLOW 1985 SEASON IN DETAIL
For Hana, 1985 began with respectable losses to the young and improving Kathy Rinaldi, Catarina Lindqvist, and Carling Bassett. But at one of her favorite tournaments, Oakland, her hard work would start to show. She rifled through the fields in Oakland and at the US Indoors without dropping a set. This includes a 6-2, 6-4 defeat of old nemesis Evert and a 7-5, 6-0 defeat of Navratilova.

Going into the Virginia Slims Championships in NYC, she was clearly on a roll. She zipped through to the semis for an eagerly anticipated rematch with Martina. Anxious to make up for the 6-0 drubbing in the last set that they played, the champion was ready to make amends. But Hana wouldn't go quietly that day. As Bud Collins said, they "ripped" each other from every angle on the court. Blowing leads in both sets, Hana lost 7-5, 7-6 in what was truly a stunning match of talent and shotmaking from both players.

During the clay court season, Hana embarked on a rigorous training routine shortly before the beginning of the French. Dutch trainer Joop Ooms was merciless towards her, whipping her into the best shape of her life. Hana felt prepared to win the French Open and believed she would. However after cruising through to the QFs, she ran out of steam. Claudia Khode Kilsch took advantage of it and Hana found herself out of the tournament, 6-4, 6-4.

At Wimbledon, she played scratchy in getting to the 3rd round against the dangerous grass court specialist, Liz Smylie. Even a behind the back passing shot up the line couldn't save Hana on that day as she lost in straight sets. A change was needed. Hana's brother Vilem convinces her to cut her hair short. Joan of Arc has risen! 😆

She was disappointed but continued to work hard sans the long hair and headband that was her trademark. After losing a close, 6-4 in the 3rd set battle to Evert in Toronto, Hana felt that the stars might be lining up just right for a third run to the final in New York.

She got no favors from the draw. But double-bagled Hanika in the 3rd round, survived in 3 sets against K. Jordan, and prevailed in a tightly played QF with Sukova, 7-5, 7-6. In the semis, she faced Chris, the woman who had beaten her in 4 of her previous 6 US Open entries. After losing the first set, a calmness settled over Hana. It was the confidence from all of the off court work she had been doing. She knew that she could stay out there all day if need be. Waiting patiently for her opportunities to attack and putting in plenty of blistering first serves throughout the last two sets, Hana was too much for Chris on this day. She won the last two sets, 6-2, 6-3.


Hana said she felt "relieved" because she found Martina's style of play easier to play against than Chris'. Feeling loose and confident, Hana raced off to a 5-0 start in the final against Martina. Later, Martina said she just hung in there until Hana quit hitting winners reasoning that no woman could keep that pace up. Fighting back, Martina took the set into a tie break. But once again, Hana's free flowing shots put her behind early as Hana closed out the first set bravely charging forward on Martina's first serve and and volleying behind her for a winner.

Martina sensed a let down from Hana in the 2nd and steamrolled to a 6-1 win. But the third would be a fight to the finish. Both women combined for over 100 winners in the match. But it was Hana who played who was swinging from her heels in the 3rd set tiebreak. Bud Collins compared Hana's winning backhand volley to one of "Pavlova's balletic movements" as she collapsed on her back in victory. She had not only won her third grand slam title. But she also had defeated quite possibly the game's two all time best players on successive days to do it.

Hana continued to play well through the fall , she won Federation Cup for the 3rd consecutive year for Czechoslovakia, in Nagoya.
and her Australian Open SF showdown with Martina brought up an interesting question. If Hana won the tournament, where should she be ranked? The computer would've left her just short of #2 in the world. But she would have more grand slam titles than anyone else. Unfortunately for her, Martina avenged the US Open loss to Hana and beat her 6-4 in the 3rd before beating Chris in the final.

As Billie Jean King put it, "the big two had become the big three."
1986
1986 was a year for Hana for to further build upon what she started in 1984. 1985 saw the realization of her return to the Grand Slam winner's circle. So it made sense that 1986 would see a repeat.

1986 was to be a good year for Hana, but not great. It was by far her most consistent year of her career. Her relatively few bad losses coming at the very beginning of the year and then again at the very end plus an early exit from the US Open.

In the past, it was usually Chris that stood in Hana's way of a better year. But there's no doubt that Martina was the spoiler in 1986. Not only did Martina defeat Hana in all 7 of their matches, she defeated her in 6 tournament finals including the Virginia Slims Champs and Wimbledon plus in the Fed Cup final in Prague. Some of the matches were close and some weren't as close as they should've been. But there's no doubt that Martina had a stellar year in 1986 and enjoyed great success against Hana.

Hana had a nice straight set win over Chris at the March Virginia Slims tournament. She was in control the whole match before Evert made a mini run to make the second set close. She also swept Chris in the semifinals at Wimbledon 7-6, 7-5. In that match, Hana had to come from behind in both sets to win in another sign of her maturation as a player. Chris did have one win against Hana in 1986 in the French Open semis. A top form Evert swept her aside after Hana saved a match point and halted Graf's 24 match win streak.


The trip home to Prague for Fed Cup was obviously a big moment for Martina, but also for Hana as well. As captain of the home team, Hana made a speech in Czech to the home crowd of 7,000. In her welcoming speech, she praised the world's top two players and told the Czechs that it would be a rare treat for them to see such fine tennis in person.

Martina winced as Hana became the first person in 11 years to publicly mention the name "Martina Navratilova" in Czechoslovakia. Despite having been warned by Czech authorities to not do so, Hana perhaps repaid Martina for her outburst in 1984 by honoring her by name, first in Czech and then again in English.

However, tennis was not the only reason why Prague 86 was to be special for Hana. During the tournament, she and Jan Sedlak quietly went down to the mayor's office and were married. They had decided to do this while Hana was playing in Berlin earlier in the year. Jan, a Czech restaurantuer in Sydney, had never been noticed travelling with Hana. But the two had been long time friends. After having coffee and playing croquet with Jan on her wedding night, Hana lost the Fed Cup final to Martina.

During the summer, Hana severely sprained her right ankle while playing an exhibition as touring pro at the Four Seasons Resort in Lancaster, PA. A doctor told her to withdraw from the US Open and rest. But she didn't want to miss the chance to open the US Open tennis tournament as defending champion. Stoked with painkillers, Hana made it no further than the 4th round where her doubles partner, Wendy Turnbull, eliminated her in 3 sets.

Hana had a solid fall indoor season, but kept running into an in form Martina flying high from titles in New York and Wimbledon. In the semis of the Chicago event, she had a great match with Pam Shriver. After Hana won it in the third set, she and Pam embraced instead of the customary handshake.

But her next meeting with Pam in New York wouldn't be as pleasant for her. While serving for the match at 6-4, 4-3, Hana received what she thought were 6 bad line calls against her in two games. A normally reserved Betty Stove was very upset at what she was seeing and filed a complaint. Hana failed to pull herself together and lost to Pam 6-1 in the 3rd. Betty, an ITF and WTA board member, spent the next 2 months insisting that training for linespersons be improved and that professional, full-time umpires be hired by the WTA. Betty was successfull. But it didn't change the fact that Hana ended the year with no singles titles.
1987 TBC
1988 TBC
1989 TBC
1990 TBC