Hana very close of a second bomb in the Virginia Slims circuit! On the at least friendly clay courts of Amelia Island Plantation, fl. She produced a spectacular all-court game and was close from upsetting again the great Martina! But close is not enough, and Martina fought back in an epic three-setter who was the climax of the tournament.
Amelia Island Plantation, Fl. – For the second time of the year after the Virginia Slims Championships in NYC, Hana, Martina Navratilova and Chris Evert were all entering the WTA Championships on the clay courts of Amelia Island Plantation.
N.3 Hana Mandlikova was among the seeded players who breezed to victories, beating Iva Budarova 6-1, 6-3 in the second round.
On the 3rd, Hana,, despite a bout of severe nausea on the court, eliminated Carling Bassett, 6-3, 6-2, to earn her quarterfinal spot.
At that point, Promoters still, seemed to wish a dream-final of Chris against Martina, despite Hana's fabulous start of the year… But there are those who feel they may be getting a bit ahead of themselves, for standing in the way of their plans for Sunday are a pair of monkey wrenches named Hana Mandlikova and Manuela Maleeva. "As long as everybody thinks they're going to be in the finals, that's fine with me," said Mandlikova, who advanced to semifinal meeting with the top-seeded Navratilova by beating Kathy Horvath 6-2, 6-4 in quarterfinals. "There's a lot of depth in women's tennis now, but the public and the media like to talk about No. 1 and No. 2," said Horvath. "They're all picking Chris and Martina, but it really doesn't matter to me." "There's been a lot of talk about the showdown," said Carling Bassett, who lost to Mandlikova 6-3, 6-2 in Thursday's round of 16. "But I wouldn't count Hana out."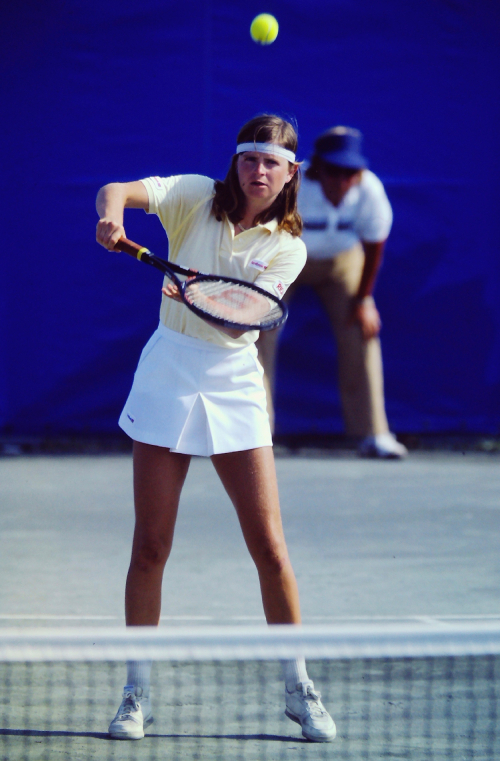 Mandlikova, ranked third in the world, certainly appears to be the one most capable to sneak her way into the finals. The 22-year-old Czechoslo-vakian has been the hottest player on the women's circuit this year. She's won five titles already in 1984, taking Virginia Slims championships at Washington, Oakland, Calif., Houston, Dallas and Boston. Her title in Oakland came by way of a three-set victory over Navratilova in the final. "I always enjoy playing her," Mandlikova said. "I'm not saying I'm going to beat her, but I'll give it my best shot. I beat her in Oakland, but that was three months ago. I don't want to say anything, just go out and try my best." It took less than Mandlikova's best to beat Horvath in a match flawed with frequent errors on both sides. "I don't think I was playing at my best, but neither did Kathy," said Mandlikova. "You have to fight towards the end and I guess I did. I played some better shots at the end and that's why I won."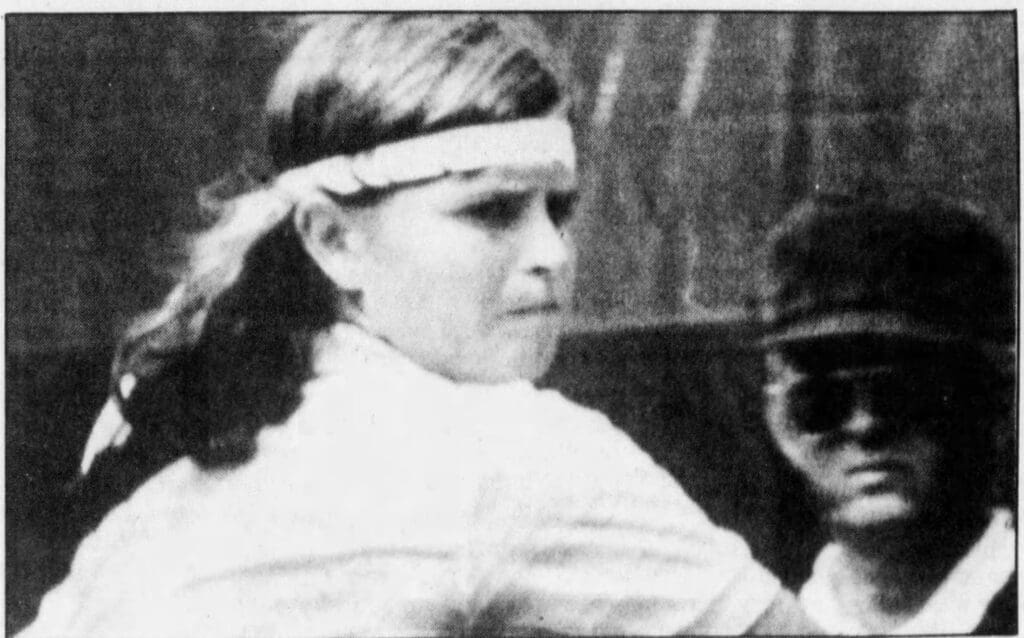 "I was encouraged yesterday by having played a good tactical match (in a 6-1, 7-5 win over Mima Jausovec)," Navratilova said. "Today was a good gutsy match. Hopefully tomorrow, I'll put it all together. "I'm excited about playing Hana. She beat me the last time we played and you always hope for the chance to redeem yourself. I've been waiting a long time." Mandlikova ended a nine-match losing streak against Navratilova in January with a 7-6 (8-6), 3-6, 6-4 victory in the final of the Virginia Slims of California in Oakland. At this point, however, she wasn't even talking about a repeat. "I just want to go out and play my best," Hana said.
Hana came close to dashing all hope of seeing Lloyd and Navratilova battle on clay before the French Open, in what happened to be the best match of the whole tournament.
Hana Mandlikova is the only player to beat Navratilova this year (at the Virginia Slims of California, 7-6 (8-6), 3-6, 6-4). It looked like she was about to do it again. Martina seemed to lose her patience on the slow surface.Navratilova opened strong, breaking service three times to win the first set. The pivotal game was the sixth when she and Mandlikova engaged in a short-range volley at the net, with Navratilova finally winning the exchange.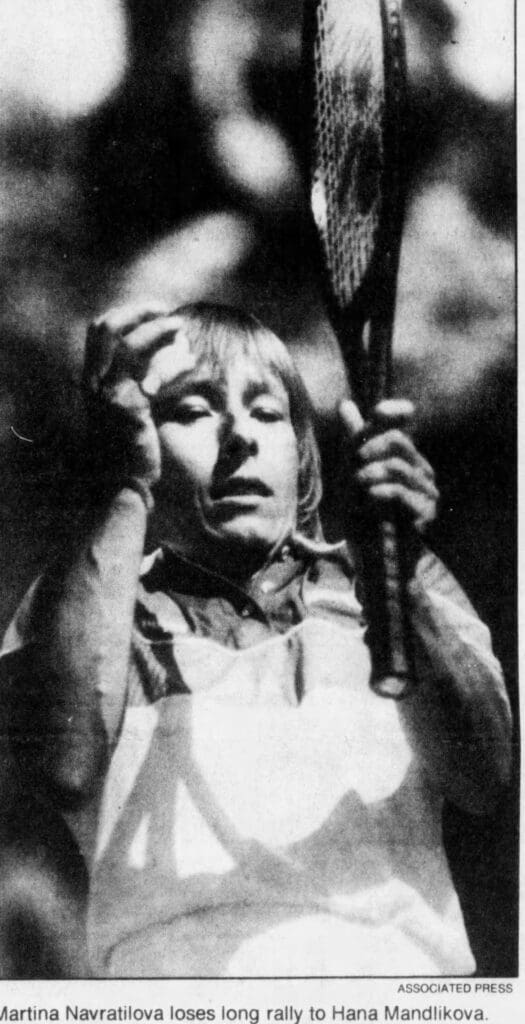 But in the first two games of the second set, Mandlikova and Navratilova swapped service breaks, but Hana turned it around in the seventh game with another break. She survived a double fault on triple set point to even the match.
"I was playing pathetically at the end of the second set and the beginning of the third," said Navratilova. "I was hitting balls that usually go in and missing them. In the old days, I might have just said to hell with it and given up. But I told myself to hang in there."
Navratilova was barely hanging in when Mandlikova broke her serve in the first game of the second set , took a 2-0 lead and then had advantages of in in a of 3- 1 and 4-2. It was while she was ahead 3-1 that Mandlikova got the call she claimed spoiled her chances of winning. With the score at 30-15, Mandlikova hit a forehand that the linesman called in. But the umpire overruled the decision and said the ball was out. Instead of having break point and being on the verge of a commanding 4- 1 lead, it was 30-30, and Martina ultimately won the game with a forehand.
Mandlikova argued vehemently over the call and was warned for misconduct. "I guess I deserved it," said the 22-year-old Czechoslovakian. "I called him (the umpire) a lot of bad names. "That call was very important. It cost me the match. I never regained my concentration after that."
Navratilova agreed that Mandlikova was the victim of a bad call. "I thought it was good," she said. "But it was too close for me to call. I'm not going to give a point away. I've had too many close matches where I got the wrong end of the deal. You never hear a football player say, 'I held him.' When you get a call, you go with it."
If the call was Mandlikova's undoing, it wasn't immediately apparent. She scored with an ace in the next game and won it when Navratilova hit a wild backhand to take her 4-2 lead. Navratilova held service, and then came the key eighth game when Navratilova broke service and pulled even. She ranged far to her left for a return on a well placed shot that would have put her in a 30-0 hole, and it was at this point that Mandlikova seemed to lose her concentration.
Playing at deuce, Mandlikova carelessly hit one out of bounds to give Navratilova the advantage, and then she tried to finesse a Bhort shot over the net only to have it hit the net and give Navratilova the game and the tie. Three more careless shots, two out of bounds and one against the net, put Mandlikova behind 40-15 in the next game, but she pulled back to deuce three times before Navratilova put her away. "In the end, she should have won it, but I got away with it," said Navratilova
Both are serve and volleyers, strong, balletic, exciting athletes who made the Evrt-Lloyd-Maleeva match, won in 2 sets by Chris, looked like a shuffleboard game at Miami Beach. Navratilova dismissed any talk that she will have the advantage today. "Chris is the best on clay. I'm the underdog this time hear that Chris?" Navratilova said, laughing. "Somebody asked me the other day who is the favor-
Promoters were happy, "The confrontation" happened on the Sunday Final. But Martina wiped-out Chris 6-2, 6-0!
"I served well and that took a lot of pressure off. I surprised her with my pa-tience. I was happy to somehow win, but I felt going out there that I could win."
"If I had not played well I would have played in some more tournaments leading up to the French," Navratilova said. "But I played well.
"Nothing worked," said Evert Lloyd. "I couldn't even play aggressive. I started slowly and I don't know when I'm going to learn I can't start slowly against her. Against the other players on the tour I can play catch-up, but not Martina."
Once again, Hana proved she was the player to count with before the Grand Slams Tournaments to come.
(Article compilled from : AP, Tampa Bay Times, The Orlando Sentinel, Fort Lauderdale News, The Palm Beach Post.)