R16 :
The most crucial meeting of the fourth round took place on the Centre Court and again it involved some testing moments for Goolagong.
Standing in her way was the rapidly improving Czech Hana Mandlikova who had been getting big leads all Spring against the top players (Navratilova at Amelia, Evert at the Italian and French Opens and most recently Austin at Eastbourne), failing to close the match out each time.
Goolagong broke twice in the first set to lead 2-0 and 4-2. Then from 2-5 down, Mandlikova won three in row and always had the edge in the tiebreaker.
She took eight of nine games, breaking in the fourth game of the second set to lead 3-1.
At this stage Mandlikova was revealing her talent, hitting a full forehand and serving and volleying crisply.
When Hana had 40-15 on her own serve for 4-1, Goolagong's title aspirations looked slim indeed, but two missed Czech forehands allowed the Australian back into the match.
Given a second chance, Evonne won 10 games in a row as Mandlikova suffered a similar collapse to Eastbourne (where she led Austin 6-1 3-0 only to lose 12 of the last 14 games).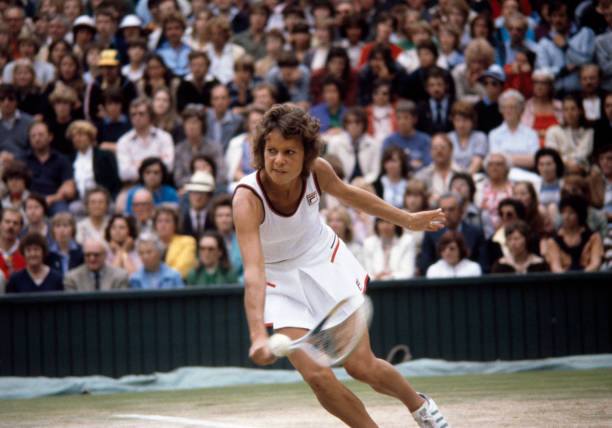 A critical test had been passed and the 1971 champion was through 6-7(6-8) 6-3 6-1 in 92 minutes.
"The path to the final wasn't easy but I couldn't have picked the draw any better myself. The three-setters (against Stove and Mandlikova) tested my endurance and sharpened my confidence for the latter rounds," admitted Evonne later.
Her usual potential spoilers Navratilova and King were out harm's way and about to play each other in an explosive quarterfinal.
Article compiled from : The Guardian, John Dolan's Women's Tennis 68-84