Oakland Coliseum, Oakland, cal.
This week , the Virginia Slims series stop in Oakland was star-studded! All the big names were there except Chris Evert.
And on top of the pile came once again Hana Mandlikova who continued her improved form defeating the top three seeds and handing Navratilova her first loss in 55 matches, just one victory short of tying Evert's all-time record.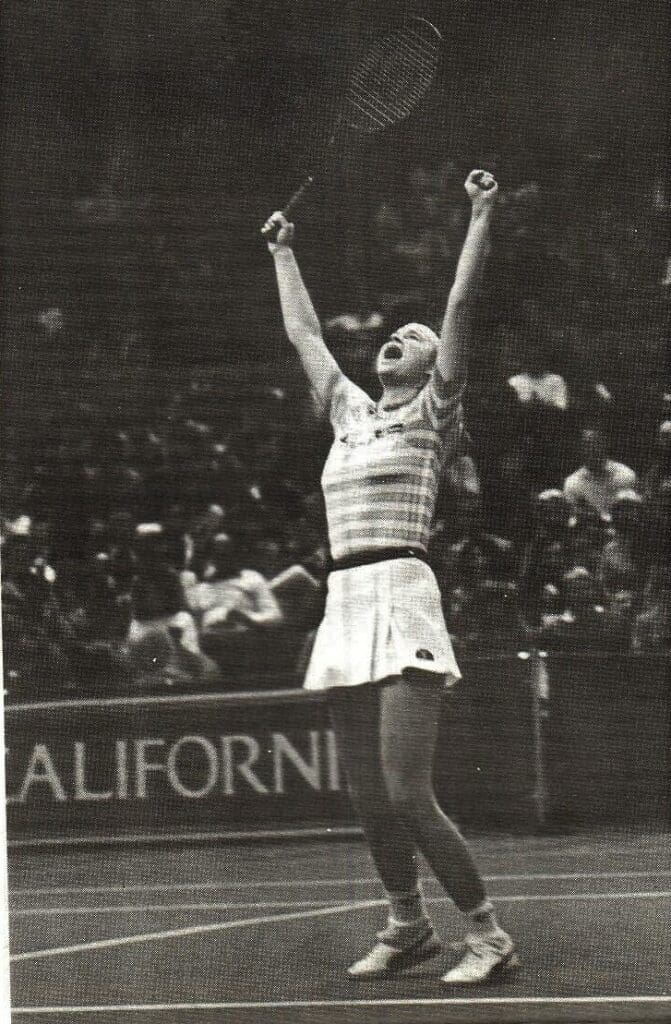 The crusher of hopes was eigth-seeded Hana Mandlikova, who, in the midst of a two-tournament hot streak, was not be stopped, not even by the No. 1 player in the world. It was unfortunate for Martina, and a bit ironic, perhaps, that the person to streak was a player not usually lauded for mental toughness and consistency. Martina may wonder for months to come why Hana chose the week of Januray 9 to produce her best tennis in two years.
Not since the spring of 1981 when she swiped the French Open crown from Chris Evert Lloyd has Mandlikova shown such brilliance. The awesome shotmaking that fans have come to expect were all present in Oakland., but something long-forgotten made a reappearance – consistency. One could see the change on her face. She wanted to win !
After capturing the Virginia Slims of Washington, Hana might have had trouble motivating herself for the next week's work. Against big-serving Alicia Moulton, there were some close points, but Hana remained in control. She had passed her first test in straight sets.
A better test came in the next round against Floridian Bonnie Gadusek. 6/1 for Hana in the first set, she seemed to be on a roll. But those easy first sets can decieve.
With as much enthusiasm and fighting spirit as anyone on the circuit, Gadusek pushed and pushed, trying to crack Mandlikova's concentration. At one point, it almost worked. After the first set wipe-out (6/1), things started to improve on Bonnie's side.
"I played very, very well in the first set. Then she started to play much better," Mandlikova said. Actually, a few Hana's errors and some courageous play from Bonnie leveled the points and then the set went to Gadusek, down 6-2 in the second set tie-breaker, rallied to win it 9-7, after Hana squandered three consecutive match points at 6-3.
Undaunted, Hana resumed control with a fairly easy 6/2 final set : "It's always like that. If she's a good player, her form is going to go up in the second set," Hana Mandlikova said.
Gadusek, it should be noted, changed her tactics several times throughout the match, displaying an all-court ability.
Next was the quarterfinal, with Hana beating number 2 seed, Andrea Jaeger for the third time in a row, in a match that wasn't as close as the score suggests. Jaeger came from 0-3, 4-5 and 5-6 down to force the tiebreaker, saving two sets pts at 3-6 before a service winner put Hana ahead. In the second, Mandlikova critically saved 2 break points at 2-3 and broke to love in the 7th game for victory.
This match was reminiscent of their early clashes. Jaeger used to lose because her technique was too immature to counter Mandlikova's weapon. Lately, though, her losses are due more to immaturity of attitude than of technique or strategy.
Although the set scores were close, 7/6(7-5) 6/4, Andrea did not look like a winner. The usual irritations, bad line calls, unforced errors and people in the stands all got to her. Hana is not always an exact model of composure herself, but at least she tended closely to the business of winning.
On the saturday night session – in front of a near-capacity-crowd of 9,335 – it appeared that Pam Shriver, number 3 seed in Oakland, wasn't more of a challenge for Hana in the second semi final, Martina Navratilova beating Czechmate Helena Sukova 6/2 6/1 in the afternoon to reach the final.
Pam Shriver should have given Mandlikova a tougher match. Shriver breezed through the semifinals without coming close to losing a set. Hana used her racket like a stilleto, slicing up Shriver with repeated cross-court backhands. Hana Mandlikova was at her passing-shots best. Though she's playing some of the strongest tennis of her career and coming off her recent victory in Washington, Shriver dug herself a deep hole by losing the opening set, 6/2.
"I played a horrendous first game of the second set and I felt that was the most important game," said Pam, who is 0-4 h2h against Hana. "I had the advantage and tried to serve it to her backhand, but I hit it to her forehand and she walked on it. If I hold (serve) to make it 1-love it would be different. The thing with Hana is you have to stay close."
Mandlikova mixed her shots like a control pitcher, stunning Shriver with deadly accurate backhands, then knocking her on her heels with hard stuff up the middle.
"She's hitting her backhand exceptionally well," Shriver said. "She's so tough from both sides you can't give her points off your serve. She never felt any pressure. My very first game I lost serve."
Hana Mandlikova broke Shriver's serve twice to take a 4-0 lead in the first set and established the tempo of the match.
At one point, Pam was so exasperated she convinced a fan to buy her a beer and she obliged taking a few sips. It was an unlikely outcome for the third seed playing the eigth seed.
Just prior to the final, one could only hope that Mandlikova would not give up easily. This attitude was prevalent, based on observations of Navratilova's crushing performances. Martina swept through her four matches with the loss of only 11 games.
It would have been interisting to find out how odds-makers in Las Vegas would have set Hana's chances against Martina. Navratilova won the last 9 matches they played, but in 1983, their matches were close. Particularly in Tournament of Champions (Orlando) in April, Mandlikova had chances to win. In the third set, serving 5-4, Hana was broken and lost the next two games. Few of the 8,377 watching the match on January 15 would have guessed that Hana would wind up in the very same position of serving for the match, 5-4 in the third set.
The key to Hana Mandlikova's victory was her persistence in keeping up with Martina's level of play. Hana broke Martina's serve in the opening game, but then was immediately broken herself. Until 6-all, there was a see-saw battle. Mandlikova even served for the set at 5-4 but Navratilova surged to break again.
Serving at 5-6, Hana hit one of the shots that proved to be her most useful weapon during the match, a running forehand down the line. That shot got her into the tiebreaker and clinched the first set for her. But it was not easy. She was down 3 points to 6. When you're that far in a hole against Martina, you haven't a prayer. But somehow Hana crept out of the hole, grabbing five consecutive points, to win the tiebreaker.
The big shots for her in that series were all backhanders, one of them a volley, another a hard crosscourt shot that whizzerd by Navratilova at the net. On the final point of the tiebreaker, Navratilova was handcuffed by a hard forehand and netted a backhander.
The second set was a let-down for Hana, as she missed a few more returns and her first serve went awry. However, she did manage to stir-up some drama while she was serving at 0-2. A first serve was called out by the linesman, but WTA referee Lee Jackson (umpire of the final) overruled and called it good. Martina thought the ball was out. Hana thought the ball was out. Rather than accept the call in her favor, Hana spoke up and admitted that she thought that her own serve was out. Jackson had no choice but to let the fault call stand. After the match, when questionned about the incident, Hana replied, "I saw it was out. Why should I cheat?"
Linecall controversy reappeared at a more crucial time, with Martina serving at 4-4 in the third set. Navratilova hit a backhand passing shot down the line, which Hana did not return. There was no linesman call. Again, Lee Jackson overruled, calling the ball was well outside the court. But the call stood. It puts Navratilova behind 15-30 on her serve. Across the court, Navratilova's coach, Mike Estep, muttered, "Just concentrate. Go back and serve." He waved his hands to her and she returned to play.
As she prepared to toss the ball, a hunched over, little old man selling frozen malted milk caught her eye. He was wearing an orange shirt and walking slowly around the court. Navratilova glared angrily, her concentration again broken. When the man finally settled in his seat, the crowd applauded him and Navratilova smiled nervously.
She managed to win the next two points but lost the game after deuce when Mandlikova hit a superb forehand return for a winner and then handcuffed Navratilova again at the net. Mandlikova then served out for the match.
Martina revealed her feelings in the post-match interview : "Usually you don't overrule when it's that close that late in the match. Lee did, and she saw it out. It was pointless, because I still had my chance to win the game. It didn't lose the match for me. I certainly had my chances prior to that."
Serving for the match, Mandlikova vowed to be more aggressive than she was in Orlando nine months earlier where she served for the match and lost, this time serving out to 15 with three strong serves and backhand volley winner, claiming her first win in 10 meetings over her rival since the 1981 Wimbledon SF.
Hana threw up her hands in victory as if she had won a Grand Slam event. There was plenty of reasons for exaltation: – she had just proven that Martina was beatable and she now found herself in the long-forgotten position of winning two consecutive tournaments. Perhaps she was on the verge of living up to the potential that so many people have envisioned for her since 1979.
The 2 hour final was declared by many as the best women's serve-volley duel since King and Court.
If there was any motive for the change in Mandlikova, she herself summed it up best : "I was fighting with myself all the time. I was sometimes blaming somebody else for my losses, like my coach or my trainer. After a while you realize it's not them who's losing : it's me. And I'm hurting myself and nobody else… The really important point in my career was right after Wimbledon last year when I lost to a South African girl (Jennifer Mundel). I said 'Come on, if you want your true potential, you have to go for it.' "
Martina, on the other hand, was predictably upset. Losing right after she had broken Chris's streak might have been easier to handle, but coming three short was almost unbearable.
Speaking with frankness but containment, she declared, "I'm just trying to get used to the feeling of losing; it's been a while. When you lose every week, you can shrug it off and go on and it doesn't bother you, but when you don't lose for a while, it really hits you."
For such a disappointing day's at work, it was generous of Navratilova to give credit to Hana's performance. She commented, "She beat me playing the same way I play… I came down fighting. She won the match, I didn't lose it."
"I just tried to put pressure on her" Hana said. "All I wanted to do was stay close in the third set and then wait for my break. I knew I could beat her. She had something to lose, not me."
"It was a nice feeling to beat her, especially since she did not lose a match for almost one year," said Mandlikova. "She knew she didn't lose, that I won the match.".
"But I have beaten her before so it wasn't new to me. Everyone is talking about that match, but they should be talking about my matches before that one, when I beat Pam (Shriver) and Andrea (Jaeger)."
"I think so many players find out they play Martina and think to themselves 'Oh, I am finished', even before the match starts. I think with my beating her that I will give them more confidence. I showed she can be beaten. Hopefully the game will get more interisting now."
"… Everyone around me is more excited than I am. I think Chris will be happy."
Hana came a long way , and winning two tournaments back to back, beating almost everybody on the tour to start the year is a sign she's back for good : "Last year it was a very up-and-down year for me. I had some injuries the year before and lost some confidence, which anybody would when they go through a time like that," said Mandlikova, who already has won $62,500 this year.
Mandlikova attributed her new-found success to a change in strategy. She now concentrates on "one kind of forehand, one kind of backhand and my serve," and cut out the "fancy stuff."
"At the end of 1983, we had some long talks," Betty Stove, Hana's coach and manager, said. "We made some changes in her game and attitude. I told her the bottom line to this whole thing is to have fun."
Stove said it shows. "Hana's gone off with a good attitude toward tennis. She has shown she can do it (win)."
"I was discouraged last year because I knew there was something in her, a talent to win but she wasn't winning."
Hana Mandlikova has changed her goals : now she concentrates solely on winning her next match and keeping free from injuries.
"I am going to take winning point-by-point, match-by-match." she said. "I don't think the question is to be No. 1 or not to be No. 1. I think if I win tournaments that the rankings will come."
Victory saw Mandlikova's ranking improve from No. 9 to No. 5 following the tournament. She rests for a few days in her Boca Raton home, before playing the Avon Cup on the floridian Clay of Marco Island.
VIRGINIA SLIMS OF CALIFORNIA,
Oakland, Ca. Jan. 9-15, 1984
$150,000 – Sporteze, Oakland Coliseum
singles seeded : 8
R1 : + Alycia Moulton 6-3 6-4
R2 : + Bonnie Gadusek 6-1 6-7 (7) 6-2
QF : + (2) Andrea Jaeger 7-6 (5) 6-4
SF : + (3) Pam Shriver 6-2 6-3
F : + (1) Martina Navratilova 7-6 (6) 3-6 6-4
doubles w/ Helena Sukova
R1 : + Claudia Kohde-Kilsch/ Christiane Jolissaint 6-1 7-6
QF : – (1) Martina Navratilova/ Pam Shriver 3-6 1-6
Reports compilled from : John Dolan's Women's Tennis 1968-84 , Inside Women's Tennis, Assocuated Press, Bennington Banner, Chippewa herald-Telegram, The Berkshire Eagle, The Daily Times, The Hanford Sentinel, The Napa Valley Register, The Palm Beach Post, The Press Democrat, The Sacramento Bee, The San Fransisco Examiner, Tulare advance-Register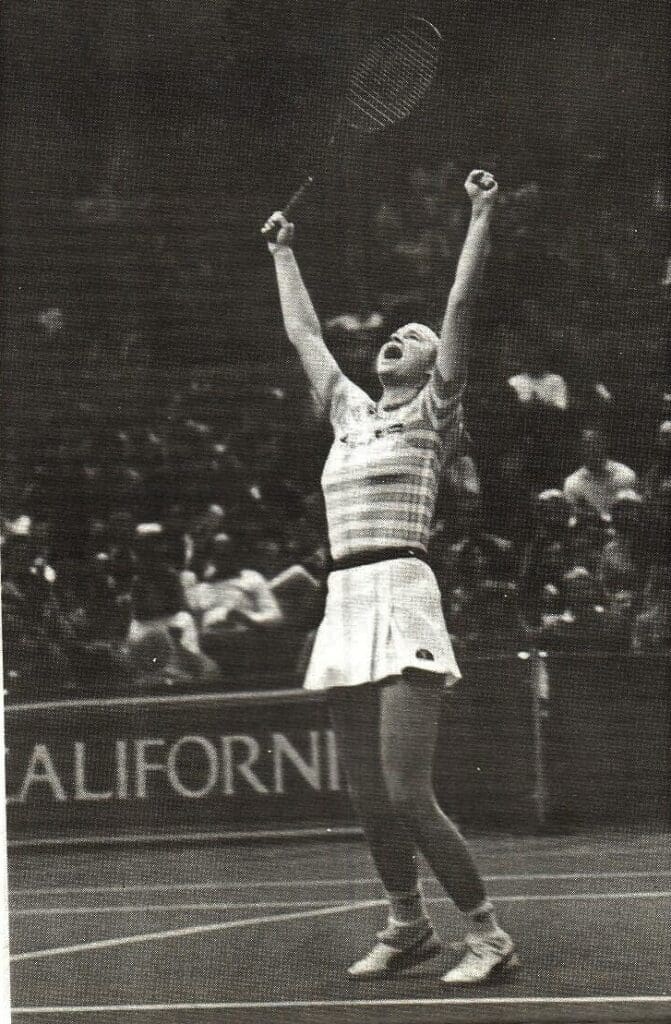 VIRGINIA SLIMS OF CALIFORNIA,
Oakland, Ca. Jan. 9-15, 1984
$150,000 – Sporteze, Oakland Coliseum
singles seeded : 8
R1 : + Alycia Moulton 6-3 6-4
R2 : + Bonnie Gadusek 6-1 6-7 (7) 6-2
QF : + (2) Andrea Jaeger 7-6 (5) 6-4
SF : + (3) Pam Shriver 6-2 6-3
F : + (1) Martina Navratilova 7-6 (6) 3-6 6-4
doubles w/ Helena Sukova
R1 : + Claudia Kohde-Kilsch/ Christiane Jolissaint 6-1 7-6
QF : – (1) Martina Navratilova/ Pam Shriver 3-6 1-6