Introduction :
 Saturday's surprising U.S. Open women's final should be just the right boost for enigmatic, inconsistent and hugely talented Hana Mandlikova.
The lithe 23-year-old Czech blew away defending champion Martina Navratilova 7-2 in a third-set tiebreaker, fell to the court in joy and disbelief and then hurled her racket skyward.
"I think finally everything just fell in place and I showed I could play," Mandlikova said.
Finally, the great match that tennis observers knew Mandlikova could play. Finally, the very match that women's tennis desperately needed.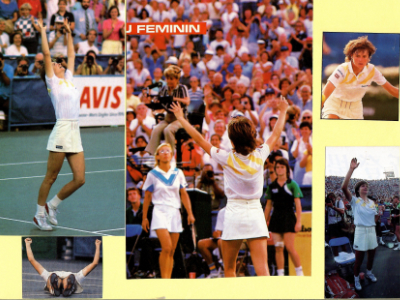 1st rd vs Amanda Brown
Third seed Hana Mandlikova, twice the losing finalist, began her bid for the U.S. Open Championship today with an easy 6-2, 6-1 victory over Amanda Brown of Britain. Mandlikova, from Czechoslovakia, was successful on 68.8 percent of her first serves and registered three aces in boosting her overall record at the Open to 27-7.
2d rd vs Annabel Croft
Hana Mandlikova swept past Britain's Annabel Croft 6-3, 6-3 in today's opening second-round match.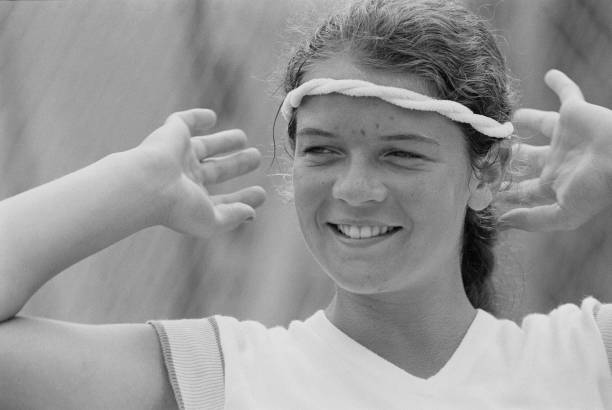 Mandlikova, who lost to Chris Evert Lloyd in the 1980 and 1982 finals and got as far as the quarterfinals the past two years, consistently hit deep ground strokes, then rushed the net, chasing Croft all over the stadium court and polishing her off in 55 minutes.
3rd vs Sylvia Hanika
Sylvia Hanika, one of Hana's nemesis, stands up to her for this 3rd round match played late at night on the Stadium Court.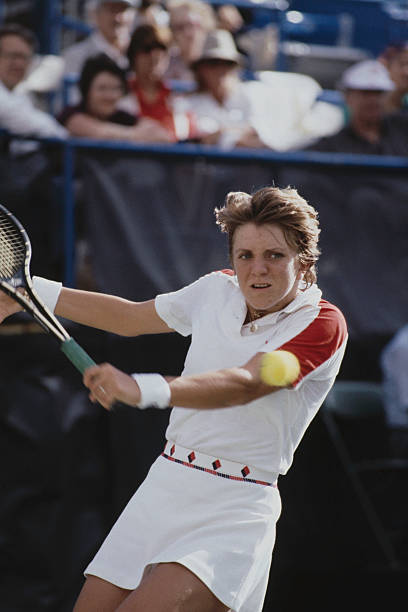 The German player's left handed topspinned game always proved being problematic for Mandlikova. Their duels have been very close and Hana leads only 8 wins to 6 in their head-to-head.
Totally focused, Mandlikova wins the match in straight sets 6-3, 6-4 without trembling.
4th rd vs Kathy Jordan
If Sylvia Hanika is a nemesis for Hana Mandlikova, the same qualificatif may apply to Kathy Jordan.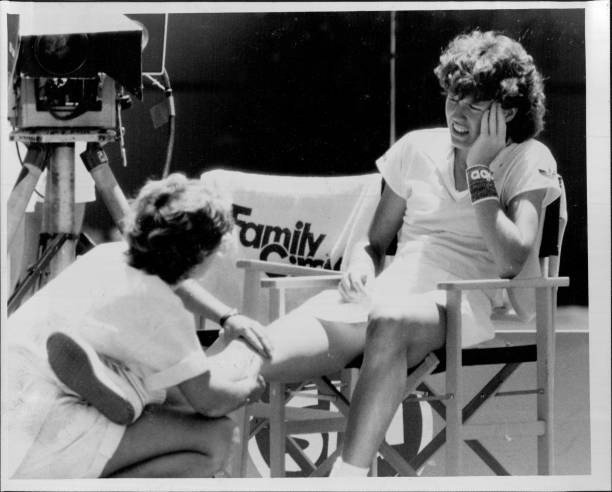 QF vs Sukova
Earlier Hana Mandlikova of Czechoslovakia became the first female to reach the semifinals by beating countrywoman Helena Sukova 7-6 (7-4) 7-5.
After an opening set in which there were no service breaks there were Seven breaks in the second set Sukova the No 7 seed broke in the ninth game to go up 5-4
But Mandlikova the No 3 seed swept the next three games breaking in both the 10th and 12th games to end the 1-hour and 25-minute match
"I knew I had to make a big effort in the final game" Mandlikova said "Not that I don't try all the time but sometimes you have to give a little more" Mandlikova twice the losing finalist at the Open next plays the winner of the quarterfinal between Chris Evert Lloyd and Claudia Kohde-Kilsch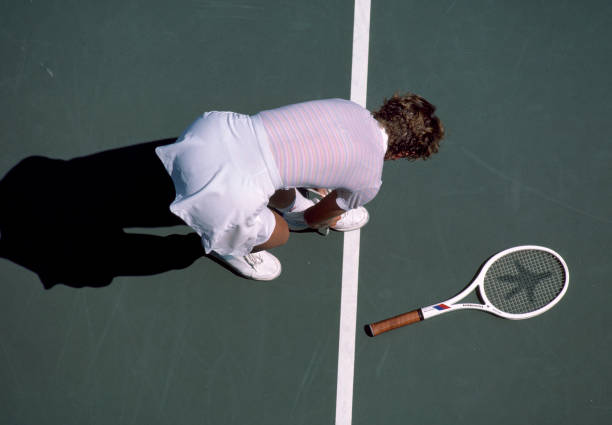 HANA MANDLIKOVA, the dazzling, unpredictable Czech, is sporting a different look at the Open, and It goes deeper than her new haircut.
Mandlikova defeated fellow Czech Helena Sukova in the quarterfinals, 7-6, 7-5, while showing her usual flair coupled with unusual consistency. 
 She produced 30 placement winners in the 25-game match and only 13 unforced errors, two commendable figures.
"I know what I'm doing more than when I was younger, three or four years ago," said Mandlikova, 23. "Mentally, I'm a little bit tougher. It's experience, growing up. As your getting older, your getting wiser."
Mandlikova, who has beaten both Navratilova and Evert-Lloyd this year, has lost one set thus far in the Open, to Kathy Jordan. She will meet Chris Evert-Lloyd in the semifinals Friday.
Mandlikova said she is playing better now than at the French Open, where she lost in the quarterfinals, and at Wimbledon, where she lost in the third round.
Mandlikova said she worked so hard to improve her fitness in the winter and spring that she was too tired to play when the summer circuit got underway.
 Hana Mandlikova insists she is not erratic. We know better. Chris Evert Lloyd claims anything can happen when she and Hana get together on the tennis court. We know that anything means an Evert Lloyd victory nine times out of 10. At least it's not 10 of 10. At least there will be one women's semifinal that won't be a cue to take a Friday afternoon nap. We surely know that Mandlikova can beat Evert Lloyd, because she's already done it this year. And, just to spice up the event, it appears that Mandlikova is at the top of her game. She had to be yesterday to slip past fellow Czech Helena Sukova, 7-6 (7-4), 7-5, while Evert Lloyd was groundstroking West German Claudia Kohde-Kilsch out of the tournament, 6-3, 6-3. In five matches here, Mandlikova has lost one set to Kathy Jordan and that's a stark contrast to her performances at the French Open and Wimbledon, where she didn't even reach the quarters. 
 MANDLIKOVA IS the third seed, a position that neatly sums up her career. She has for a handful of years been considered as good an athlete and shotmaker as there is on the tour without the results to show for it. The questions were always about what was happening upstairs. The answers never came from Mandlikova, who recoils when the word "erratic" is sent in her direction. At 23, she wants to attribute her past inconsistency to youth. "I think I know better what I'm doing than I did when I was younger," she said. "I'm mentally a bit tougher. It's experience. It's growing up. As you're getting older, you're getting wiser." Maybe that's why she was able to survive yesterday's first-set tiebreaker after falling behind 0-2, and the second set, when she lost her serve three times, but always rallied to break Sukova one of the better women's servers right back.
SF vs Chris Evert-Lloyd
Hana Mandlikova: Ended Chris Evert Lloyd's streak of eight straight Grand Slam finals
Hana Mandlikova playing smartly and not folding under the pressure as she often has defeated Evert 4-6 6-2 6-3 to advance to today's final against Martina Navratilova 
"She played very well and served extremely well" said Evert who held an 18-3 advantage in their lifetime series and had won 13 of the last 14 matches.
"She hit a lot of great lunging volleys and she just was really on".
"And I had a lot of opportunities, especially in the second set. And in the third set, having love-40 on her serve in the second game. Little things like that"
Evert also dropped serve at 2-3 in a game that went to deuce 10 times. Down 2-5 Evert staved off three match points to hold serve, but she couldn't break Mandlikova who wrapped up the match at deuce with an ace and service winner.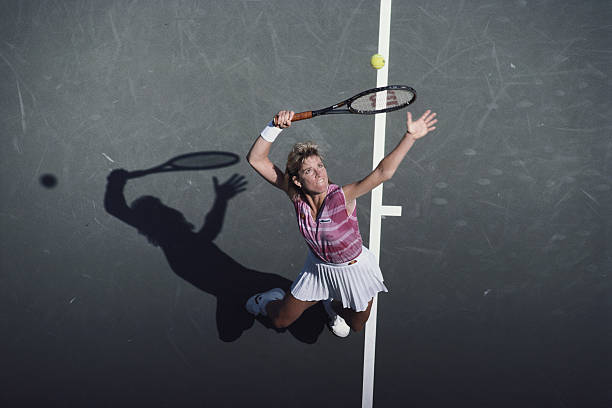 "I played very good tactically" said Mandlikova a 23-years-old whom many say has the shots and athleticism to be the No 1 player.
"I didn't rush the net after every single ball I stayed back until the second or third shot and came in I knew where she would go"
Evert felt her serve "wasn't up to par". Though her first-serve percentage was 75 compared with Mandlikova's 49, she double faulted five times (often on crucial points) while Mandlikova double faulted three times.
 "Maybe I was a little bit nervous" said Evert "That the serve is the first thing that goes with my game when I'm nervous"
 "I think we both tended to be a bit nervous. I think she reacted better to the pressure than I did. Maybe I got a little tentative on the pressure points and maybe she was a little more eager and therefore she could play her game a little more."
Mandlikova says she has trained harder this year than any time in her career. She feels it's paying off now but Evert doesn't think she's playing well enough to beat Navratilova.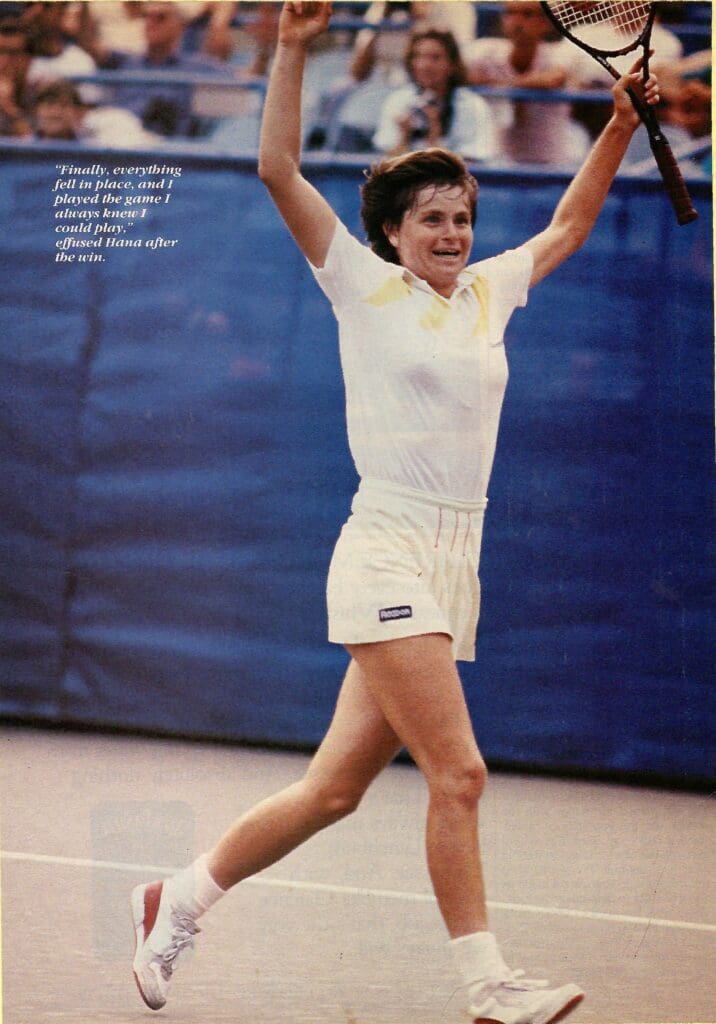 "Our match was pretty close today and I didn't play 70 percent of what I can play" Evert said. "She really is going to have to play better and cut down on the errors".
Navratilova clearly was looking forward to meeting Evert in the final, spending most of her press conference talking about challenging her for the No 1 ranking.
Asked about the possibility of playing Mandlikova she said "She is not going in 20 different directions and has her goals set I think it will be a close match" 
F vs Martina Navratilova
Mandlikova stunned the second-seeded Navratilova, 7-6, 1-6, 7-6, one day after she had eliminated top seed Chris Evert Lloyd.
"To beat two champions in the same tournament is a dream," said Mandlikova, a 23-year-old right-hander from Prag, living in Boca, Fl..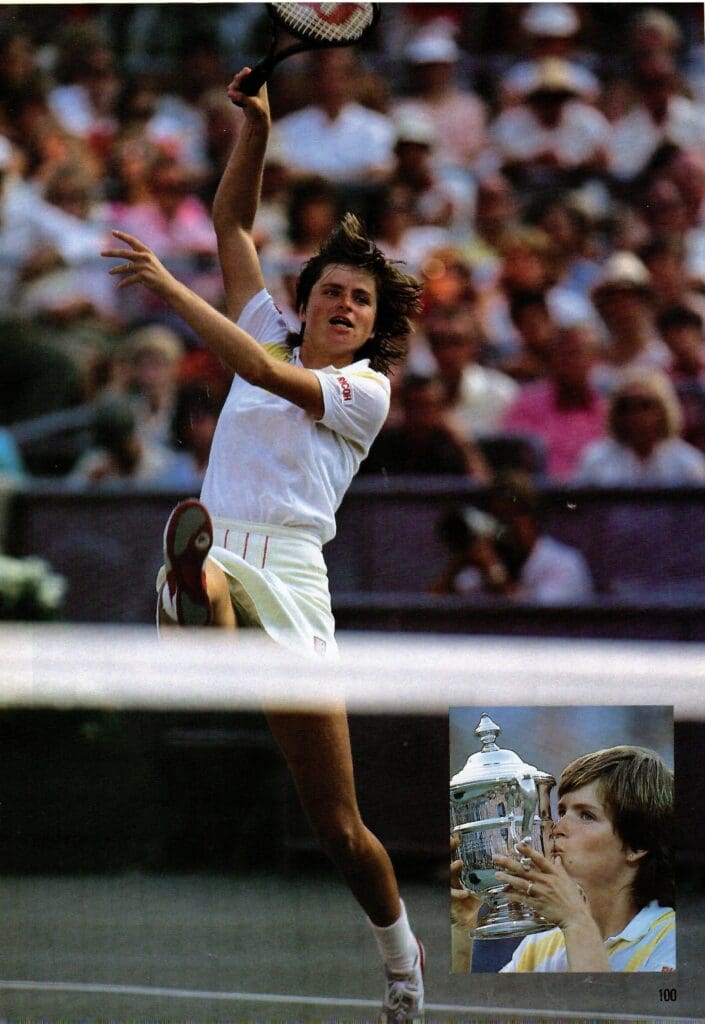 Mandlikova took the first-set tiebreaker, 7-3, then wrapped up the hard-won victory by capturing the final-set tiebreaker, 7-2.
Plagued throughout her career by inconsistency, Mandlikova was a model of consistency as she displayed every aspect of her exciting game during this two-week tournament, the third of the four Grand Slam events.
Mandlikova streaked to a 5-0 lead to begin the match, then saw Navratilova battle back to pull even 5-5.
In the second set, the defending champion went to work, dropping only the second game, which Mandlikova held after the two twice went to deuce.
The first set saw the two players holding their serve till Hana Mandlikova broke Martina on the 8th gamle to lead 5-3, serving for the Championships.
But Martina tightened her game and when she took the break back, lots thought that it was over for Hana, that her momentum had passed away.
But Hana Mandlikova decided to fight till the end, like in the first set.
In the 11th game of the third set a marathon that saw the two battle to deuce nine times Mandlikova fought back from love-40 and staved off five other break points to hold service.
Navratilova held at – 30 to force the tiebreaker.
 "I was playing well," Navratilova said. "I felt consistency would win over flair, but it didn't. When she got ahead she was hitting for the fences. She was hitting winners all over the place."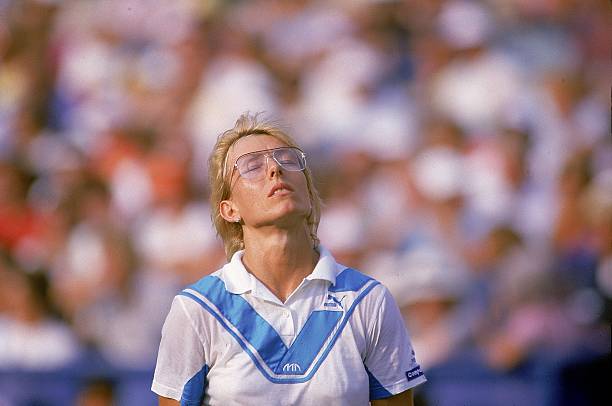 It was a wild, seesaw match that had a pumped up Navratilova yelling and gesturing after her own great shots.
Still, it was the underdog Mandlikova who won over the stadium crowd. A puzzled Navratilova said, "You try to figure out what to do to get them on your side."
Maybe now that there's a choice and that her aura of invincibility is fading, Navratilova will start getting some of the cheers she certainly deserves.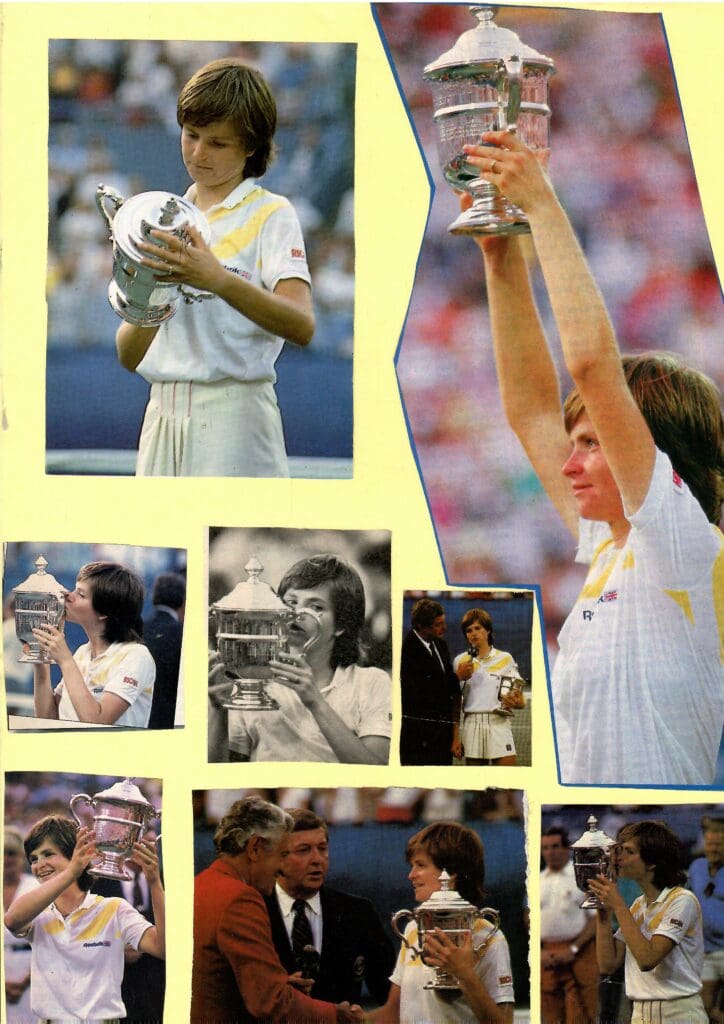 US OPEN
New York City, Aug. 26 – Sept. 8, 1985
$1,250,000 – Decoturf – Flushing Meadows
singles : seeded #3
R1 : + Amanda Brown 6-2, 6-1
R2 : + Annabel Croft 6-3, 6-3
R3 : + Sylvia Hanika 6-3, 6-4
R4 : + Kathy Jordan 7-5, 3-6, 6-1
QF : + Helena Sukova (7) 7-6 (4), 7-5
SF : + Chris Evert-Lloyd (1) 4-6, 6-2, 6-3
F : + Martina Navratilova (2) 7-6 (3), 1-6, 7-6 (2)
doubles w/ Wendy Turnbull (4)
R1 : + Amanda Brown/ Sara Gomer 6-1, 6-3
R2 : + Sandy Collins/ Mary-Lou Piatek 6-2, 6-2
R3 : + Anne Hobbs/ Christiane Jolissaint 6-3, 6-4
QF : + Catarina Lindqvist/ Joanne Russell 6-1, 3-6, 6-0
SF : – Martina Navratilova/ Pam Shriver 3-6, 4-6