3rd RD vs PAULA SMITH
In womens play Sunday, 16year-old Andrea Jaeger, the No8 seed dominated Betsy Nagelsen 6-4 6-2, second-seeded Martina Navratilova downed Lindsay Morse 6-4 6-1, Hana Mandlikova the ninth seed from Czechoslovakia cruised by Paula Smith 6-2 6-3.
Mandlikova, 18, displayed classic strokes in scoring a very businesslike victory over Smith.
On match point she lost her balance and hit her head on the cement surface. Rubbing the bruise, she got up and disposed of Smith on the next point. "I just sat there for two minutes" said Mandlikova "I closed my eyes and was crying maybe a little bit but its not bad now ."
4th RD vs MARTINA NAVRATILOVA
Two rounds later, Navratilova came to grief against the unpredictable but improving ninth seed, Hana Mandlikova, who finally beat her idol 7-6(7-2) 6-4. After an early pair of breaks, games went with serve and Mandlikova opened the tiebreaker taking the first five points.
The teenager broke to lead 3-1 but Navratilova clawed back to 3-all. Shades of Wimbledon? The crucial game was the seventh, Hana broke again on a disputed line call, and held twice more for the match including from 15-40 in the final game, hitting two winning volleys and two unreturnable serves for the win.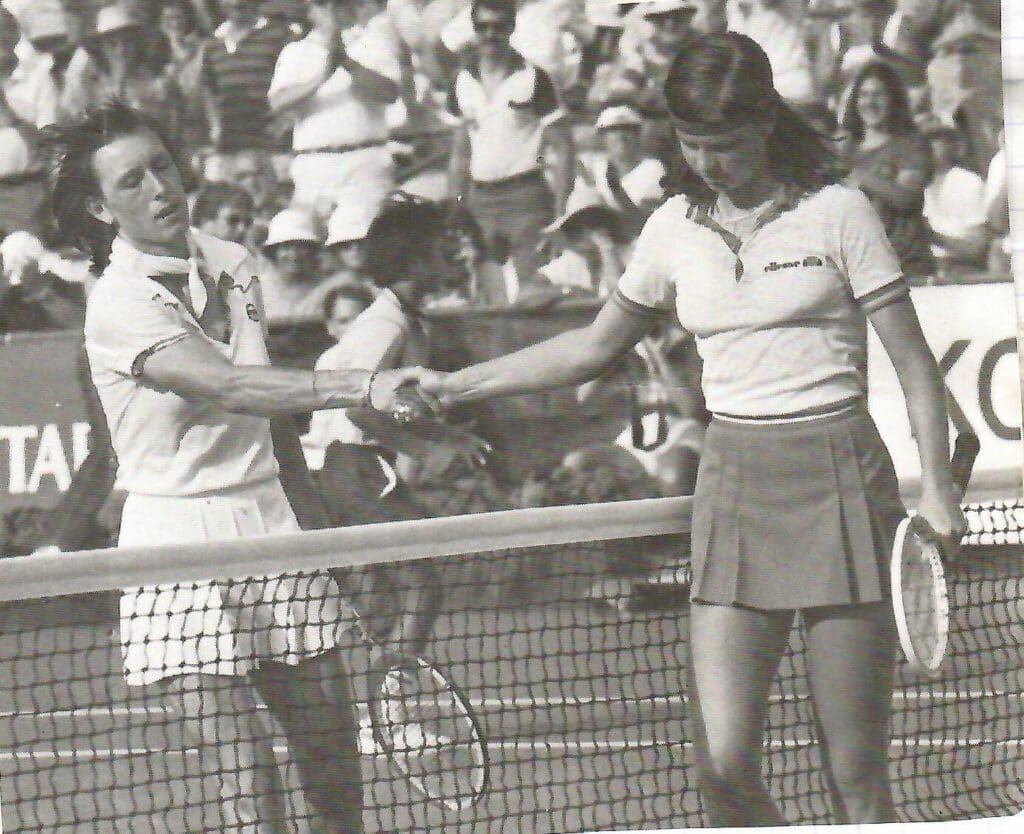 Mandlikova, a protege of Navratilova's before she defected to the United States from Czechoslovakia in 1975, jubilantly thrust her arms to the sky then slammed the racket down on the net after match point. "She could win the whole thing. She's got the shots," said Navratilova.
QF vs BARBARA HALLQUIST
Hana Mandlikova, the 18-year-old Czech who knocked off Martina Navratilova, made short work of Barbara Hallquist today, advancing to the semifinal of the U.S. Open tennis championships with a 6-2, 6-2 victory.
Mandlikova, the ninth seed, overwhelmed the 23-year-old Californian with her steady serve and powerful volley game. She broke Hallquist's service in the sixth and eighth games of the first set and again in the fourth and sixth games of the second to move into the women's semifinal in less than 50 minutes.
A product of the same tennis club in Prague that produced Navratilova, Mandlikova will meet the winner of tonight's match between Andrea Jaeger and Ivanna Madruga.
If Jaeger looks beyond her quarterfinal match with Ivanna Madruga, it may be because of what she will read in New York papers Wednesday.
Her father-coach, Roland Jaeger, told reporters that Hana Mandlikova, the 18-year-old Czech who is improving as fast as Andrea, holds the key to the championship. "I'm glad Madruga won today, because she hasn't got the weapons to beat Andrea," Roland said when he learned that Madruga had downed Candy Reynolds 5-7, 6-3, 6-3. "All Andrea has to do is hit the ball a ton against her."
Roland already has proved to be a good prophet by predicting that Mandlikova would upset Martina Navratilova, who was the biggest casualty among the seeded players in Flushing Meadow this week.
He still sees Mandlikova as a darkhorse for the title, Tracy Austin and Chris Evert Lloyd notwithstanding. "Anybody who beats Hana should win the tournament."
SF vs ANDREA JAEGER
After winning her semifinal, Evert got on the phone with to her father Jimmy and asked him to fly up especially, to see her play a major final for the first time.
In the other all-teen semifinal, which was just as compelling, 18 year old Mandlikova got off to a strong start, behind her serve and volley, breaking twice for 5-0 and took the opener in 19 minutes.
With Jaeger up 2-1 on serve in the second, a light drizzle suspended play for almost the same amount of time. Resuming, the break obviously affected Mandlikova's concentration and she lost serve for the first time in the match to allow Andrea lead 3-1.
It was the last break of the match. Plucky Jaeger, saved break points in her next three service games to level the match at a set a piece.
Mandlikova had the edge in the final set, by virtue of serving first and at 5-4 she had two match points at 15-40 on the Jaeger serve.
A backhand long and a forehand into the net cost her both those opportunities.
The tiebreaker began with a Mandlikova fault on her second service after she was called for a foot-fault on the first. She responded with four winners to take a 4-1 lead. Jaeger pulled back to 3-4.
The Czech was called for a foot-fault on her first service again but responded with a strong second serve and a forehand crosscourt volley winner. Jaeger sent a forehand return wide and Mandlikova had her third match point.
Hana netted yet another forehand but wouldn't be denied on the fourth, hitting a forehand volley winner into the open court for the 6-1 3-6 7-6(7-4) victory in 1 hour and 50 minutes.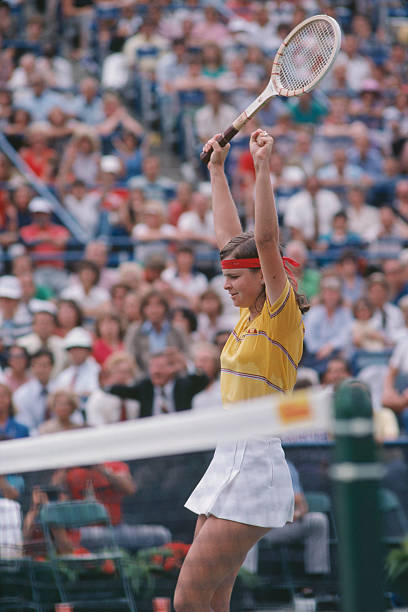 The 15 year old was philosophical afterwards, "I never had the lead so I'm not too disappointed about losing. I could have won but then I could have lost 0 and 0. I'm just happy I got this far."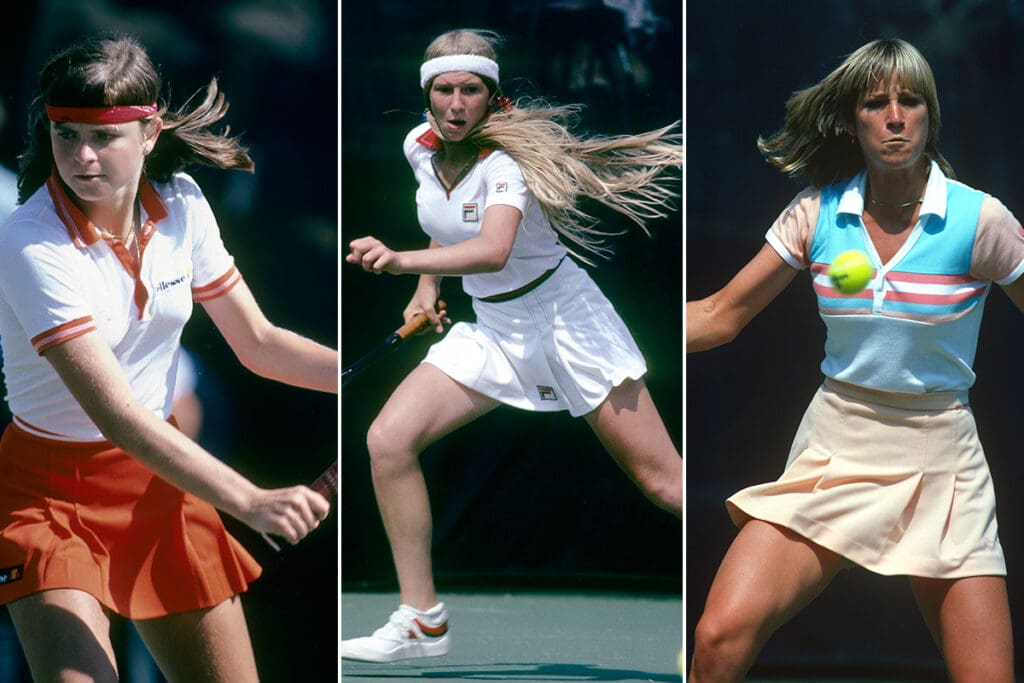 F vs CHRIS EVERT-LLOYD
Evert, only too aware of having a let down in the final against Mandlikova, who had already pushed her hard at the Italian, French and Canadian Opens, started strongly breaking in the opening game to lead 4-2.
That's when Hana came on strong, breaking back to 4-all, held from 0-40 in the ninth game and broke again in the 12th at love to take the opening set, winning five of the last six games.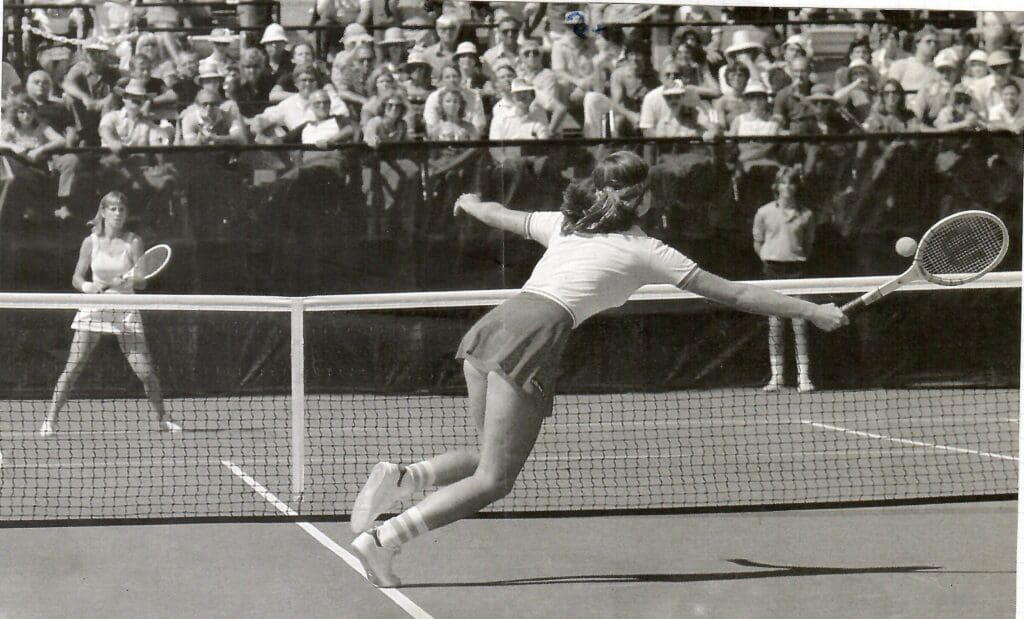 Evert broke to open the second, when the No. 9 seed double faulted twice, but leading 15- 40 in the fourth game, Hana had three chances to break back to 2-all, missed a makeable volley on each one and was never in the match again, losing 10 of the last 11 games, her only success was holding serve in the fourth game of the final set.
So Evert snared her fifth Open title 5-7 6-1 6-1 (her 11th major singles crown) in 95 minutes, a cheque for $46,000, but more importantly proven she was still a force.
She had won her 41st match out of 42 since coming back in May.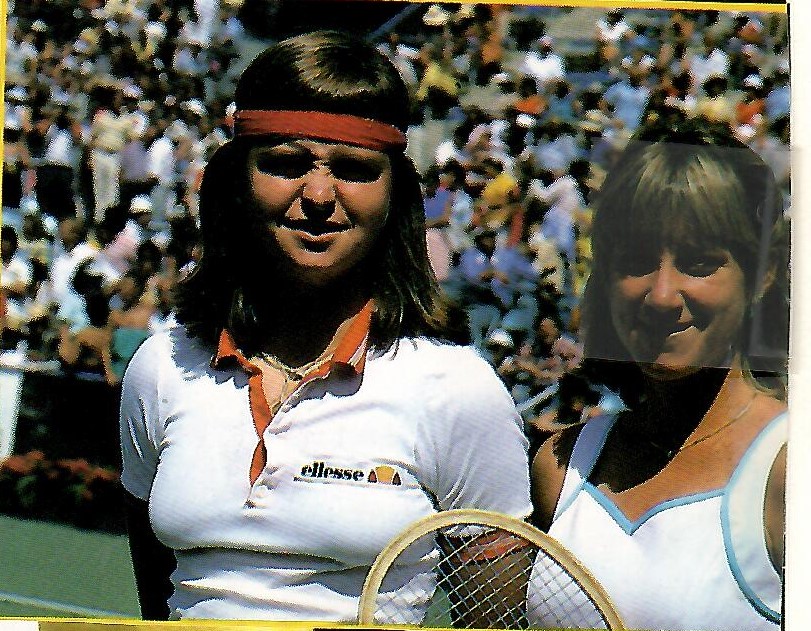 "This has been the toughest U.S. Open of all for me and my greatest victory," said the champion. "It would have been very frustrating if I ended my career and my father never saw me win a title. That's why I wanted him here. Maybe I wanted to prove something to myself, and to everyone else, too. Some people had written me off. It's nice to know I could still come through."
"I've played Hana three times before and I've been in the same situation each time," she explained. "I also was confident that Hana wouldn't keep up her phenomenal play."
She was right. Mandlikova, 18, served and volleyed perfectly in the first set, but she got too impatient in the next two sets and she claimed it cost her the match.
"I've tried to be patient," Mandlikova declared. "But I just got too anxious. However I must admit she played very well. I played well last week and this week, too, so my time will come."
(Articles compiled from : The Shreveport Journal, Chicago Tribune,Newsday, the Boston Globe, John Dolan's Women's Tennis 68-84)