Her two last matches over two former greats, prevented by Soviet authorities to play pro tour beyond the Iron curtain for a couple years, are kind of sur-real.
SF :
Hana beats Natasha Chmyreva, soviet player #2 in USSR. Hana was often compared to her then, because they had the same kind of raw talent.
Natasha Chmyreva won the Wimbledon junior tournaments in 1975 and 1976.
She participated in the Federation Cup with the USSR in 1978 and 1979, reaching the semi-finals.
At the age of 16, she reached the semi-finals of the Australian Open in 1975 and the following year she reached the quarter-finals of the US Open.
In 1979, after losing to Tracy Austin in the Federation Cup, she was expelled from the national team without explanation and banned from playing outside the Soviet Union. The Soviet leadership considered her behavior "too Westernized".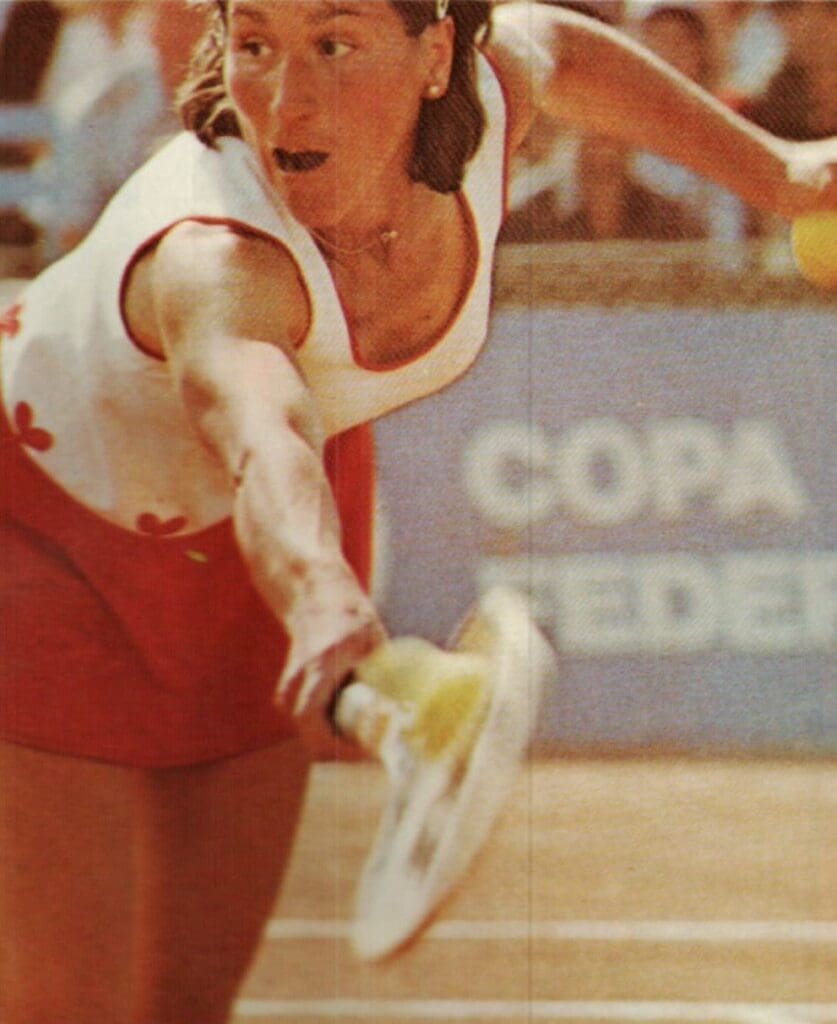 In 1977, there was a major development following the Virginia Slims of Chicago when the top two Soviet Union players Olga Morozova (No. 9) and Natasha Chmyreva (No. 14) were ordered by their Federation to return home, banning them from further international competition and effectively ending their careers.

Preparing for the 1980 Olympic Games, Soviet rulers forbade Soviet athletes from participating in competitions in which athletes from the Republic of South Africa took part. The USSR were afraid that black African nations would boycott the Games.

Pre-Olympic prohibition closed the world arena to Soviet players, as practically every tournament had players from South Africa.

When the Iron Curtain slammed down shut behind her, the 18-year-old Chmyreva was ranked 13th in the world. She never got over this step.

After that Soviet players could not compete on the professional circuit. Only exceptions were the Davis Cup and the Federation Cup. Chmyreva helped the USSR reach the SF in both 1978 and '79. It was amazing considering that was their only international appearance.

After 1977, Chmyreva trained with all her might so that she would still be in contention for the top after the Moscow games in 1980. In 1978 she won the championships of the USSR, in 1979 the World Student Games.

Evert recalled that Chmyreva had "unbelievable talent. A lot of power. A lot of ability. And very fiery on the court."

Speaking years later Morozova was reflective, saying, "At the time, we didn't have a choice it was as simple as that. You didn't question it. The passports we had weren't like those of today and we always had to ask permission to leave the country anyway. It wasn't so bad on me, at least I had 10 years international competition and I was thinking of starting a family but for Natasha it was dreadful. She was only 18, coming up, already pushing the top players and she was going to be a very good. I don't think she ever fully recovered from that."

John Dolan's Women's tennis 68-84, Tennis Forum