1st RD vs CAROLINE STOLL
Young Hana Mandlikova of Czechoslovakia might be on the verge of joining Chris Evert Lloyd, Martina Navratilova and Tracy Austin in the superstar category of women's tennis.
Mandlikova, 18, reached the finals of the recent U.S. Open Tournament where she lost to Evert Lloyd. En route to the finals, she scored an impressive victory over Navratilova. Mandlikova showed that kind of form Tuesday night when she overwhelmed Carolyn Stoll, 6-0, 6-0, in a first-round match of a $200,000 women's tournament. She lost only 16 points in the 32-minute match.
"I thought she would play better," said Mandlikova, who is seeded fourth here. "She beat me last year, 6- 4, 6-4. I've improved my concentrate over last year. I played every ball. Last year I just played some balls."
2D RD vs STACEY MARGOLIN
Stacey Margolin, who is returning to form this season after a disappointing 1979, could not withstand the onslaught of Hana Mandlikova. As in Toronto last month, Hana won in two straight sets.
QF vs KATHY JORDAN
Third-seeded Hana Mandlikova of Czechoslovakia rallied to defeat sixth-seeded Kathy Jordan, 2-6, 6-0, 6-2, to set up a meeting in semifinals with Turnbull who fought wind to upset Navratilova.
It took one set for the 18-year-old Mandlikova, runner-up to Chris Evert-Lloyd at the U.S. Open, to settle down. Instead of trying to overwhelm her opponent as she had in the first set, the hardhitting Mandlikova concentrated on placement and won 12 of the final 14 games. With the set tied at 2-2, Mandlikova closed out Jordan by winning the final four games.
SF vs WENDY TURNBULL
Mandlikova had little difficulty in whipping the veteran Turnbull. There were two service breaks in the first set, both by Mandlikova, in the fifth and seventh games.
In the second set the players traded ; service breaks in the third and fourth games, but Mandlikova won the final three games, two on service breaks, to advance to the finals.
The turning point of the second set was in the seventh game, when Turnbull missed an easy volley, then double-faulted on game point.
In the next two games, the Australian appeared to lose concentration in losing. She double-faulted on match point, the ninth straight point won by Mandlikova.
"When I serve well, I play well," said Mandlikova. "I have a lot of confidence after beating Martina Navratilova this summer. I know I can beat the top players. "It was hard to pass Wendy because she comes to the net so well. In the second set she missed some volleys."
FINAL vs ANDREA JAEGER
Returning 7 months later to the city that kickstarted her senior career, Jaeger wins the richest title of the year outside the majors. In the final, the 15 year old claims her first win in four meetings over Mandlikova, aided by a very slow court and a 1st serve percentage from her opponent that dipped below 50 in the first and third sets.
"I lost the first three times I played Tracy too so I really wanted to win today. I think I was a little hungrier than Hana," said the champion.
Jaeger broke in the third game to lead 4-2, Mandlikova broke back twice to 4-all and 5-all but crucially lost her serve in the 11th game again.
Jaeger was again twice a break up in the 2nd at 1-0 and 4-3 but Mandlikova changed tactics staying back and at one point outlasted Andrea in one of her 50 shot rallies, but the Czech ran out of patience in the decider, losing her serve to love in the first game and to 15 in the 7th to leave Jaeger serving for the match at 5-2.
Hana dug in with Jaeger facing the sun, broke on her 1st Ad and raced out to 40-0 lead on her own serve but missed two volleys from deuce to give the teenager the title. Refusing to blame tiredness on the loss having played six straight weeks, Mandlikova said, "Andrea just played better today, she deserved to win."
"At the beginning she (Mandlikova) was overconfident, Jaeger said. "When I got going she didnt take it seriously. If I lose to someone more than twice or three times I do belter the next time, she added, referring to three previous wins by Mandlikova over her.
"She was playing well the last couple of games but by that time it didn't matter, Jaeger added. My return was better than last time. I have been returning better all week."
Mandlikova said after losing: "I tried to go into the net but her shots were deep. Of course if you beat someone three times you are confident. I was slow today. She was more anxious to beat me."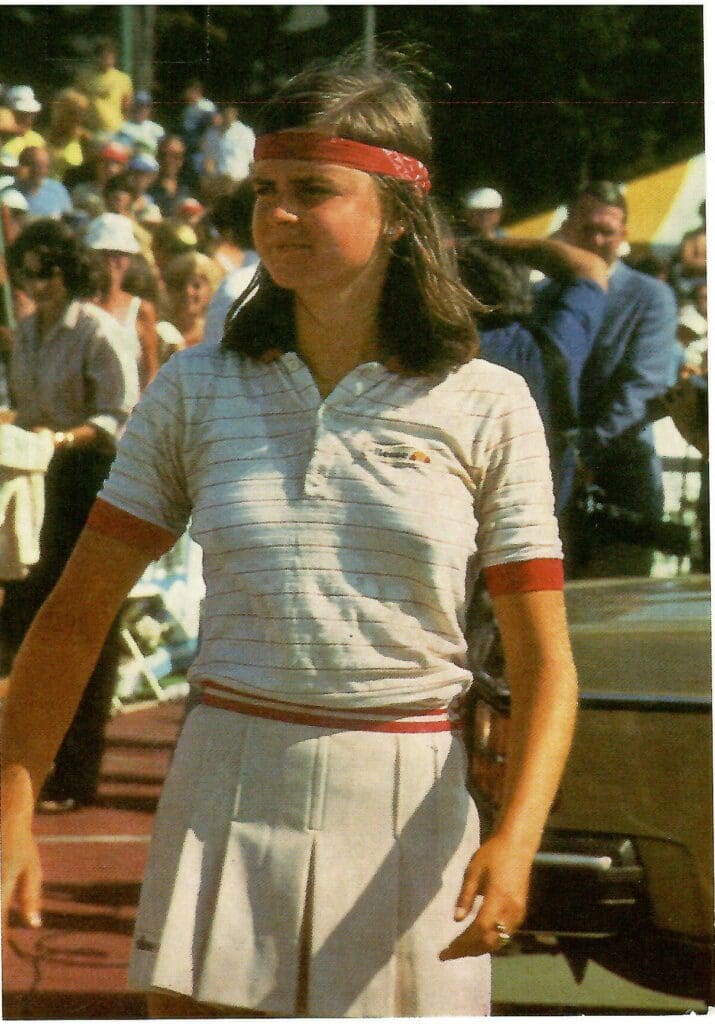 Mandlikova said she had problems with her right shoulder, which hurt when she served. She said she injured her right shoulder while warming up for the match Sunday, but did not go so far as to blame her serving difficulties on that ailment.
"I am very tired", she added, complaining about the heat. Mandlikova had played in Tokyo before coming to Las Vegas and Jaeger had not. She said she would play one more week and then would go home to "enjoy my life again."