2D RD vs BETSY NAGELSEN
Top-seeded Mandlikova seemed prey to the heat as she lethargically lost the first set to an eager Betsy Nagelsen. But lifting her game, the 18-year-old Czech won 4-6, 6-2, 6-3 in what she regarded as "the hottest conditions I have played in."
3RD RD vs BARBARA HALLQUIST
Hana Mandlikova battled through three hard sets today to reach the quarterfinals of the South Australian Women's Open Tennis.
The 18-year-old Czech defeated Barbara Hallquist 5-7, 6-3, 6-4 after the American led 2-0 in the third set.
Hallquist frequently foot-faulted and surprisingly was the underdog with the crowd. In the third game of the deciding set, when Mandlikova had break points to get back into the match, the Czech approached the central umpire and said her opponent was foot-faulting.
Asked later how she knew, Mandlikova said. "I have seen her before. She foot-faults a lot."
From outside it appeared that the young Czech was employing gamesmanship, Hallquist said that she had been called previously in matches. "I get frustrated," she said. "But I didn't know why Hana approached the central umpire."
QF vs BETTINA BUNGE
The last quarter-final between top-seeded Hana Mandlikova and eighth-seeded Bettina Bunge began under lights in failing twilight.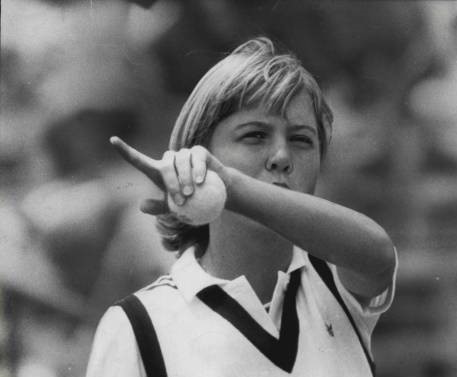 It finished at 10.35 pm with Mandlikova winning 6-3, 6-7, 6-0. She will meet Betty Stove in one semi-final today.
Barker, seeded fifth, will meet Marie Pinterova.
SF vs BETTY STOVE
Mandlikova was much too mobile and severe for her coach, 35-year-old Betty Stove, in a semifinal, taking only 49 minutes to win 6-2, 6-3.
Playing her coach was another stage in the tennis education of the free-stroking but sometimes immature Mandlikova.
She was nervous because she realised Stove knows her game intimately and would feel no pressure as she's ranked only 28th in the world, 23 places below Hana, Coach and pupil silently warmed up together before the semi-final.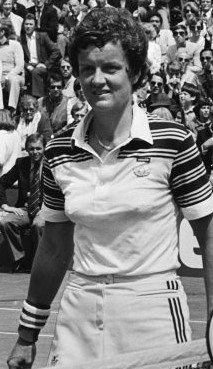 "Normally I would have talked about shots and tactics," said Stove, "but I wasn't going to tell her to go for aces when I'm the one on the other side of the net."
Stove's caution was to no avail. . Mandlikova hesitantly lost her second service game to trail 1-2, but won the next five games to take the first set.
She again brieflly faltered to drop her first service in the second set, .then overwhelmed Stove with a brilliant array of shots from all parts of the court.
Serving for the match at 5-3, Mandlikova raced to 40-0 with two aces and was surprised when the Dutch woman casually sat on her upturned racquet in readiness for match point.
Hana walked to the net and said with a laugh, "This is not a practice match. You cannot do that."
FINAL vs SUE BARKER
Top seed Hana Mandlikova took just 55 minutes to win the final of the $125,000 National Panasonic South Australian Women's Open tennis championship yesterday.
The 18-year-old Czech was in devastating form in beating Sue Barker of England 6-2, 6-4.
The victory gave her her fifth title in two years in Australia and followed only a fortnight after her win in the Australian Open at Kooyong.
Yesterday's match was only the fifth time the two players had met on the court and Mandlikova was never in danger of losing her unbeaten record against Barker.
Both players held their first service game, but it was Mandlikova who looked the better, playing her strokes with full authority. She took 23 minutes to race through the first set 6-2, breaking Barker's service in the third and fifth games.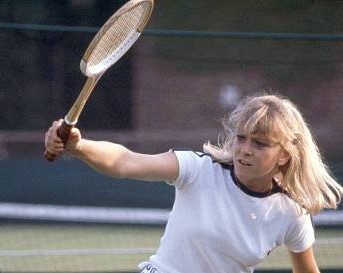 Both players had to fight to concentrate against the noise of a rock concert in a park nearby. Several times Barker appeared to have her concentration interrupted by the music. The second set was over in 30 minutes with the Czech girl breaking her opponent's service in the fifth game. Barker had no answer to Hana's powerful serving wide to her forehand.
Mandlikova pick up her 5th Australian title in two years.
(Compiled from : The Age Melbourne, The Tampa Times, The Sydney Morning Herald, Honolulu Star-Bulletin, John Dolan's Women's tennis 68-84)