When Lincolnshire's Andrea Jaeger meets Czechoslovakia's Hana Mandlikova Wednesday in the opening round of the Colgate Tennis Championships at the Capital Centre, the match will showcase two teen-agers who achieved more notoriety last year than any two player on the women's tour.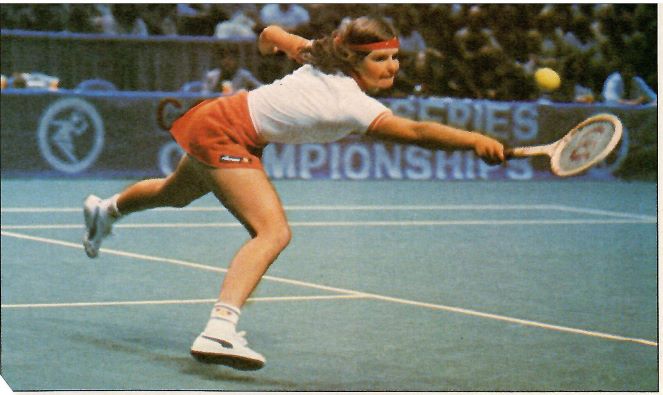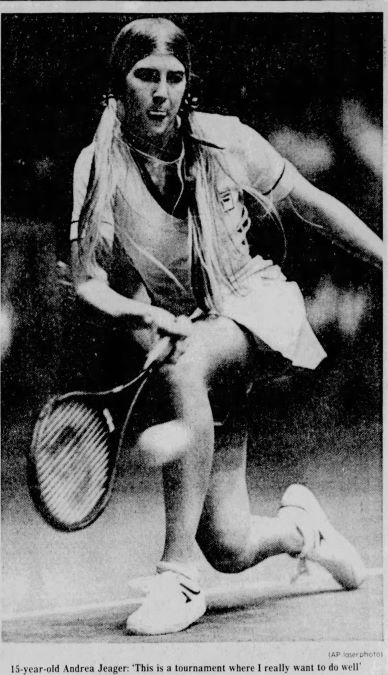 RR1 ANDREA JAEGER
Top-seeded Hana Mandlikova gave an excellent imitation of Peter Pan flitting around the court, bashing winner after winner, past Andrea Jaeger.

Yesterday's shows drew about 10,000 spectators.

Mandlikova, 18, double faulted three times to lose the first game, trailing Jaeger 1-3 but came back with three service aces and broke Jaeger's serve to win the first set.
The two teenagers traded service breaks in the sixth, seventh and eighth games of the second set before Mandlikova 's sixth ace and two other unreturned serves decided the second set, 6-3.
Mandlikova accounted for most of the points in the 70-minute match either hitting winners or hitting out.
RR2 TRACY AUSTIN
Austin made a statement on Mandlikova's N°1 intentions by beating the top seed in 58 mn. Tracy broke in the 2d and 4th games to lead 4-0.
She then lost her serve after three deuces but held the rest of the way through the first set.
Austin, despite receiving two aces, broke to open the second set.
"I wanted that game very badly after our last six meetings had gone three sets."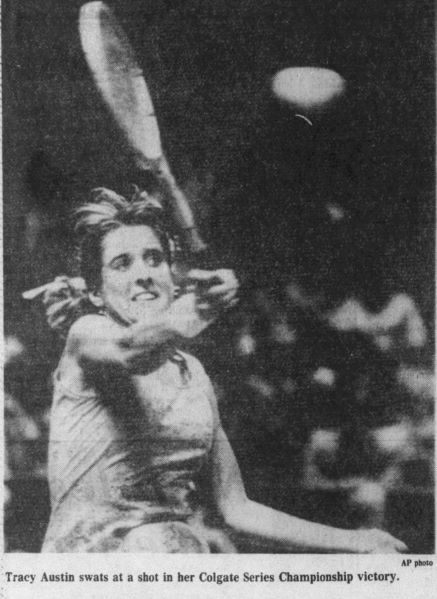 Mandlikova ending on a double fault to trail 0-1 and that turned out to be the end of her challenge.
Hana wasn't letting any cats out of the bag by admitting, "I couldn't do a thing. She hit the ball so early and so deep, I'm stuck. And my serve was bad."
The unexpectedly easy victory assured Austin a spot in tomorrow night's semifinals.
Mandlikova hops back into competition tonight, having to beat Wendy Turnbull to advance to the round of four.
The abbreviated program belonged to Austin and it bordered on astonishing how easily she handled Mandlikova. Hana would hit a serve and immediately be on the defensive. Whenever she cracked what looked to be ' a sure winner, Tracy would run it down and spring back into position. "I was really pleased with the way I was moving," gushed the victor. "I got to some shots that even surprised me. It might have intimidated her, seeing the ball come back. Maybe she started thinking about what I was doing and not what she was doing."
Hana, who admits "I hate to play baseline players," did not play a smart match. She tried drop shots from beyond the baseline, for instance. In. any case, there was probably no way to attack the low-flying Austin on this occasion. It was a violent departure from the way things usually go between the pair.
In five matches as pros and as juniors at Wimbledon, they played three-set matches with Tracy prevailing every time.
PLAY-OFF vs WENDY TURNBULL
Turnbull's mental toughness saw her through against Mandlikova after a sloppy start (six straight breaks) before Mandlikova held for 4-3 and broke again in the 10th game to take the opening set.
She won the first game of the second set, but Turnbull won the next three, hitting an ace to win the third. Turnbull also broke Mandlikova's serve in the ninth and final game of the set.

In the third set, both held service until Turnbull broke serve in the fourth game.
In the ninth and winning game, Turnbull quickly went to match pint 40-0, but lost two straight pints before the match-winning shot hit the net and rolled over out of Mandlikovas reach.
SEMIS AND FINALE
After an exhausting doubles final later that evening, Turnbull could only put up token resistance against Austin on Saturday, falling in 56 minutes. Austin broke in the 4th and 6th games to lead 5-1 in the first and it was 0-5 in the second before Turnbull held again. The other semi was far more intriguing for the 11,800 fans. Jaeger scored her second straight win over Navratilova.

In final, Austin the No. 3 seed beat Jaeger 6-2 6-2 in 68 minutes before a crowd of 10,100.
Opening night, SF and F were broadcast on USA Network. Total attendance was approximately 50,000.